Intelligent Data Logging Using ADwin DAQ Systems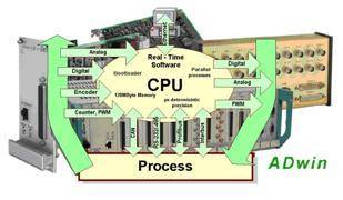 Real-Time Data Acquisition Systems from CAS DataLoggers



CHESTERLAND OH — Since 2001, CAS DataLoggers has supplied high-performance measurement and control systems to customers in almost every industry. Our ADwin real-time DAQ systems are especially ideal for intelligent data acquisition and control applications. By utilizing the programmability of the ADwin's local CPU, users can run real-time logging and/or control programs with extremely fast execution speeds in the kHz to MHz range.



Data-Logging with Real-Time Pre-processing of Data

The new ADlog data logging software for ADwin systems opens new fields for intelligent datalogging applications when combined with the capabilities of the ADwin system's hardware.




Take advantage of intelligent data acquisition with real-time online analysis along with complex triggering, performed at every sampling step



Perform online mathematical calculations, including statistics such as RMS, min/max, mean, integral, derivative, correlation, digital filters, FFT, signal analysis, etc.



Execute sampling based on timer, angular encoder, internal or external trigger, etc.



Run other functions in addition to data acquisition on the same system including open- and closed-loop control functions, and signal and waveform generation



ADlog Overview




Visualize current data collected from the ADwin system on a PC



Store results in selectable file formats on the PC or on a server



Ready to use measurement routines for all ADwin systems



Supports many different types of input modules including analog/digital inputs, counter, encoder inputs, CAN bus interface, serial interface, SPI, etc.



Can be integrated into any ADwin application for data acquisition or control



ADlog Interface

The ADlog software package consists of two parts: a data collection routine that runs on the ADwin system; and a display and storage application that runs on the PC. By default, the ADwin portion of ADlog is configured as Process 9 and it uses 2 arrays (Data_180 and Data_181) to transfer data and manage the transfer; however users can modify these settings. Over two dozen sample routines are provided for data collection from different types of input system configurations.



The PC application reads the data collected from the ADwin system, graphs it, and logs it to one or more files. Up to 8 graph windows can be displayed and data can be plotted vs. data index or time. Facilities are provided to scale the data and apply different mathematical functions (such as a low-pass filter, etc.) before the data is plotted. Users can save data as ASCII, binary, or DIAdem format and in a single file or multiple time-stamped files.



Recording can be started manually or triggered based on data from the ADwin. The ADlog software also allows users to record pre-trigger data and limits the length of the recording interval.



To learn more about what our ADwin DAQ systems can do for your monitoring and control application, or to find the ideal solution for your application-specific needs, contact a CAS Data Logger Applications Specialist at (800) 956-4437 or visit the website at www.DataLoggerInc.com.



Contact Information: CAS DataLoggers, Inc. 12628 Chillicothe Road Chesterland, Ohio 44026 (440) 729-2570 (800) 956-4437

sales@dataloggerinc.com

www.dataloggerinc.com

More from Software