Intelligent Data Loggers record almost any physical value.
Press Release Summary: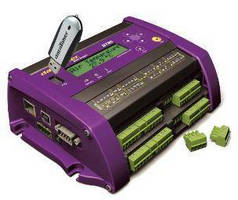 Featuring universal input channels, dataTaker Series 3 can record temperature, voltage, current, 4-20 mA loops, resistance, strain gauge, frequency, digital, serial, and calculated measurements. Automated alarming provides notification when values go out of specification. In addition to built-in web server, loggers include Ethernet, USB, serial, and cellular models so users can connect locally, remotely, or over Internet. Up to 10 million data points can be stored in user-defined memory.
---
Original Press Release:

Top 7 Reasons to Use dataTaker to Monitor Your Process



Are you looking to automate and monitor your process but don't know which data logger to choose? CAS DataLoggers has partnered with bestselling manufacturer dataTaker to offer customers the new dataTaker Series 3 Intelligent Universal Data Loggers. Get an immediate notification the moment your values go out of specification, such as when temperature starts to rise and poses a threat to equipment and products. CAS DataLoggers offers customers in every industry these cost-effective single solutions which give users many alarming and communications features. Rather than reading a laundry list of specs, check out 7 features our competitors DON'T offer you:



1. Flexible Solution Vs. More Modules:

As opposed to a product forcing you to buy multiple expansions and modules, a dataTaker is your SINGLE SOLUTION. For the vast majority of applications, a DT80 is all you need, no matter what value you're logging. Our dataTaker data loggers feature universal input channels for use with a wide range of input signal types to record almost any physical value including Temperature, Voltage, Current, 4-20mA Loops, Resistance, Bridges, Strain Gauges, Frequency, Digital, Serial and Calculated Measurements.



2. Intelligent Automation vs. Baseline Recorders:

These smart dataloggers offer powerful alarm and programming capabilities allowing them to process measurements and initiate actions on their own. This automated alarming feature often pays for the logger by itself, alerting your business to a potentially disastrous loss of product or developing equipment failure that could seriously threaten quality or even halt processes entirely. Our dataTaker loggers can send and receive data via MODBUS which allows them to aggregate data from PLCs, control systems, and even other dataTakers. Additionally their digital IO can be used to control relays, lights, buzzers, etc., providing control in a single system.



3. Large Memory Vs. Expensive Memory Cards:

With our dataTakers you don't have to use expensive and replaceable cards to store your data—with dataTaker you can record directly onto the large internal memory or USB for extended logging. Store up to 10 million data points in user-defined memory and log as much or as little as you need with independent control of schedule size and mode. Once the memory is full, you can set the dataTaker to automatically overwrite or stop logging.



4. Communications Suite Vs. Can't Communicate:

Unlike data loggers which only support USB transfer, our dataTakers are easily accessible on your local network to save you the trip with automatic data transfer via FTP. These data loggers feature a built-in web server and extensive communications capabilities including Ethernet, USB, Serial and cellular models so that users can connect locally, remotely, or over the Internet. In fact with the correct network setup, users can remotely monitor the dataTaker DT80 from anywhere in the world! For a cellular solution, our dataTaker Modem Data Loggers have a built-in cellular modem for remote applications.



5. World-Famous Ruggedness Vs. You Bought It, You Break It:

When you see a low price tag on an industrial data logger, tell yourself—it's CHEAP because it won't LAST! Do you want to come back to get your data to find that your logger is shot and now you have to go order another one? Our rugged dataTaker dataloggers including the bestselling DT80 and DT85 data loggers boast a high-quality design that can stand up to extreme industrial environments and rough handling.



6. FREE Software Vs…Sold Separately:

Many datalogger models charge extra for the software you need for setup and data download. Every dataTaker logger includes FREE user-friendly software with a built-in web interface allowing users to configure the datalogger, access logged data, and see real-time measurements as mimics or in a list using a web browser.



7. Windows-Style Interface Vs. 'How do I…'

Many leading data loggers are confusingly hard to program, especially for first-time users. Meanwhile all dataTaker loggers include the popular dEX software which is easy to learn and enables quick creation of logging schedules to automate your process. The Windows Explorer-style interface is simple to navigate and configure, getting you started on your project ASAP. Match that with our free in-house technical support and you're up and running.



The Choice is Clear

CAS DataLoggers has supplied dataTaker for almost every conceivable industry and project including not only manufacturing, industrial processing, and research and development, but also in automotive, aerospace, construction, and environmental applications. Give us a call at 1-800-956-4437 and our knowledgeable Applications Engineers can help you select the best datalogger for your project.



To find out how dataTaker dataloggers can cut your costs and automate your industrial process, or to find the ideal solution for your application-specific needs, contact a CAS Data Logger Applications Specialist at (800) 956-4437 or visit the website at www.DataLoggerInc.com. Contact Information: CAS DataLoggers, Inc. 12628 Chillicothe Road Chesterland, Ohio 44026 (440) 729-2570 (800) 956-4437 sales@dataloggerinc.com  www.dataloggerinc.com

More from Software