Intelligent Controller offers backward and forward compatibility.
Press Release Summary: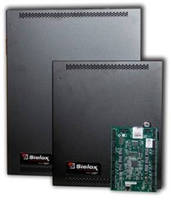 Along with on-board Ethernet, Sielox 1700 Controller has all logic built into field-programmable processor. This accelerates design changes to accommodate new features and facilitates remote updates. In addition to various integrations with Allegion AD and NDE locks, controller provides features, including support for 2-man rule and Card + Pin 2-factor authentication, for Allegion Schlage wireless locks. Functionality for aptiQ magnetic stripe readers MTMS15 and MTMSK15 is also standard.
---
Original Press Release:

New Sielox 1700 Controller Intelligent Featured at ASIS 2016



Offers Expanded Lockdown and Advanced Authentication



Orlando, FL – Recognizing market demand for upgradeable technology solutions, Sielox is showcasing its continued innovation of the Sielox 1700 Controller at ASIS 2016 (booth #2561). The 'no end of life' design is backward and forward compatible which protects customers' existing and future investment in access control technology. Along with on-board Ethernet, all logic is built into its fieldprogrammable processor, allowing for fast design changes to accommodate new features and enable easy remote updates. The latest version of the Sielox 1700 Controller has been upgraded to include several new features along with additional integrations with various Allegion AD (integrated in 2012) and NDE locks (first in market to integrate in 2015).



"Users and Resellers are looking for systems that can be easily installed and upgraded, saving valuable time and costs," said Karen Evans, CEO and President, Sielox. "Our 1700 Controller meets this need with streamlined configuration, installation, integration and operation features. With each new upgrade and design enhancement, users gain a more complete tool to help ensure the safety and security of their facility."



The latest enhancements to the Pinnacle 1700 Controller include two key advanced security features for Allegion Schlage wireless locks: support for the two-man rule which requires two valid and different cards to be presented within six seconds of each other before the door is unlocked and Card + Pin two factor authentication. Additionally the Schlage AD and NDE wireless locks series can now be linked and unlinked remotely by a trained technician reducing the labor requirements by one person.



"Sielox also has developed increased support and functionality for Allegion Engage NDE locks, Allegion AD 300/400 locks, Allegion AD mortise deadbolt and Allegion AD lock privacy mode," said Evans. "These new features for the Schlage wireless locks create an even stronger business case of installation and maintenance savings for perimeter and interior deployment of wireless locks."



In addition to its compatibility with Allegion locking systems, the Sielox 1700 Controller also supports functionality for aptiQ magnetic stripe readers, models MTMS15 and MTMSK15.



Further recent Lockdown feature enhancements include New Privileged Access Levels to expand the current privilege code capabilities, restricting access to all cardholders in a lockdown and block situation except to first responders and authorized personnel that are assigned to one of the 16 privileged access levels.



The 1700 controller now features additional home page information for firmware versions, file information for the flash programming file located on the SD memory card based upon actual file size, and improved network and RS-485 communications.



Made in the USA, the 1700 is FIPS 201 compliant for federal applications.



For more information about Sielox, visit www.Sielox.com, email info@Sielox.com or call toll free 800-424-2126.



About Sielox

Since 1979, Sielox has designed and manufactured innovative security management systems including Pinnacle® Advanced Access Control, 1700 Intelligent Controller with lockdown and serviceability, Sielox AnyWare™ Fast & Easy access control and the award-winning Sielox Class™ Crisis Lockdown Alert Status System. Our select business partners integrate scalable Sielox and OEM solutions for commercial, education, financial, government, utilities, retail and healthcare markets. Sielox provides intuitive "Made in USA" solutions that exceed today's complex and demanding security environments.

More from Electrical Equipment & Systems