Integrated Servo System delivers plug-and-play operation.
Press Release Summary: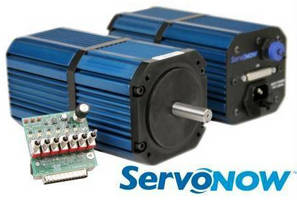 ServoNOW(TM) integrated servo system incorporates closed loop brushless servo motor with built-in driver, controller, feedback device, and 110/220 Vac universal power supply in one package. USB port enables programming/monitoring via PC, and up to 32 index motion profiles in velocity or positioning are integrated with QuickLaunch control program. Other features include programmable digital I/O, analog I/O, and 4,096 counts position resolution.
---
Original Press Release:

New Plug and Play Servo System from Bison Gear Is Out-of-the-Box and Running in Less Than 5 Minutes



ServoNOW(TM) integrated servo system features closed loop brushless servomotor, driver, controller, feedback and universal power supply in a single compact package, with QuickLaunch software.

St. Charles, IL - To enable specialty machine builders, OEMs and others to quickly and easily apply motion control in their applications, electric motor and gearmotor manufacturer, Bison Gear & Engineering Corp. introduces its new line of 34 frame integrated intelligence brushless servo motors with rated torques up to 195 in oz (1.38 N-m). The new ServoNOW(TM) integrated servo system incorporates a closed loop brushless servo motor with built-in driver, controller, feedback device and 110/220VAC universal power supply in a single compact package, which reduces installation time, wiring complexity and cost.

The ServoNOW(TM) motion control system can be quickly programmed and monitored using a standard PC through a built-in USB port. Up to 32 index motion profiles in velocity or positioning are easily integrated with its QuickLaunch software control program. ServoNOW(TM) features include four programmable digital inputs and outputs, analog I/O (0 to 10VDC or 4 to 20MA, 12 bit), and 4096 counts position resolution.

The initial ServoNOW(TM) product offering includes 5 standard, on-the-shelf models made up of both high speed (6900 rpm) and high torque (3600 rpm) variations with peak torques up to 310 oz in (2.19 N-m). Available accessories include a breakout board package allowing the machine designer to connect all the required I/O to the ServoNOW(TM) I/O connector and an integration board for use where computer access is limited or unavailable.

"Bison is committed to expanding its presence in the motion control market with truly differentiated products," said John Morehead, vice president, strategic planning and marketing at Bison Gear. "The Bison ServoNOW(TM) systems align with that objective and are a nice complement to our recently introduced AUTONOmotor(TM) sensorless brushless product line, as well as our acquisition of the Von Weise of Canada low voltage brushless DC business. We will continue to introduce such innovative, market-driven products this year as part of Bison's celebration of 50 years of excellence with thanks to our valued customers, suppliers, channel partners and associates who have contributed so much to this achievement."

Ideally suited for factory automation, packaging equipment, and other specialty machinery applications, the five new ServoNOW(TM) integrated brushless servo systems are part of Bison Gear's comprehensive In-Stock, Instant-Ship (ISIS) program that supports Bison's distribution partners and web sales by offering same day shipment for orders received before noon (Central Time).

The new ServoNOW(TM) integrated brushless servo systems are American-made and stocked in Bison's suburban Chicago facility in order to ensure reliable, long-life operation and prompt supply chain fulfillment for North American and global customers. In addition, Bison's Innopreneurial(TM) application and design engineering capabilities can be utilized to customize the standard ServoNOW(TM) models to meet specific requirements of volume OEMs.

About Bison Gear & Engineering Corp.
Celebrating its 50th Anniversary, Bison Gear & Engineering Corp. designs and manufactures fractional horsepower electric motors, gearmotors and gear reducers used in industrial and commercial OEM applications worldwide. Bison's strong engineering tradition, based on Robusticity(TM) principles, offers products with up to twice as much torque in the same package size as competitors. Bison's St. Charles, Illinois integrated production facility manufactures gearmotors and reducers in parallel shaft and right angle configurations, as well as AC, DC and Brushless DC electric motors, for applications where dependability and long lifetimes are important. BisonGear.com

photo caption: Bison Gear's New ServoNOW Single-Axis Integrated Motion Control System, shown with optional Integration Board


More from Chemicals & Gases