Integrated Metal adds State-of-the-Art Capital Equipment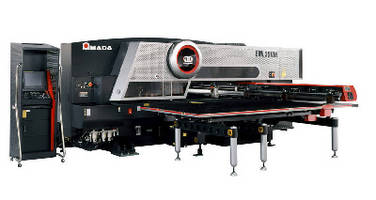 Integrated Metal - a high-precision contract manufacturer- is pleased to announce the installation of its first Amada EML K laser/turret press. This new machine significantly increases sheet metal and light plate processing capacity with its high speed 4 kW laser, faster material handling and 60" x 120" work envelope. The 33 ton turret punch is fully integrated into the design of the machine and the turret of the machine can hold 58 different tools at one time. This unique combination provides the flexibility of a laser with the efficiency of a turret punch.

The design elements of the EML K deliver huge benefits to their customers. The motion of the electronic ram is fully programmable to form accurate embossed shapes including louvers, counter-sinks or dimples. Tools installed in the 4.5" station can be used to make parts in a single hit, minimizing total cost. The high speed motion system is repeatable to .0003", making accurate parts, time after time. Automatic calibration and programmable head axes assure that part quality remains consistent over the years. And, the EML K is green - consuming only 40% of the electricity of conventional hydraulic machines.

The productivity, high precision and wide capabilities of the EML K are matched by the rest of the facilities at Integrated Metal. Four CNC brakes accurately form parts that can be welded on the new Robotic welding station. The dedicated project management staff controls the flow of parts using an ISO certified MRP system.

State-of-the-art equipment and excellent control systems support their customers' need to deliver high-quality products, on-time and on-budget. Innovative process development helps Integrated Metal keep a step ahead of their competition. Mr. Keith Billings, President, noted that," We have built our 20 year reputation on reliability and high quality. The EML K moves us to the next level of customer service."

More from Material Handling & Storage