Integrated Hematology System offers customized configuration.
Press Release Summary: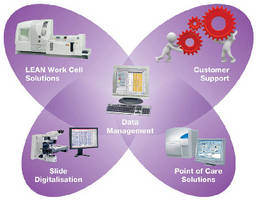 Tailored to specific requirements, HaemCell facilitates entire hematology process, both in laboratory and at point of care. Package combines automated hematology analyzers, POC testing solutions, HemaCAM computer-assisted microscopy for automated analysis of blood smears, as well as ABX Pentra ML data manager to oversee all hematology procedures. By providing automated clinical analysis, data management, and customer support, system optimizes decision making and patient outcomes.
---
Original Press Release:

HORIBA Medical-UK Launches HaemCell



Introducing a new integrated haematology solution for effective clinical decision making & improved patient outcomes

The five elements of HORIBA Medical-UK's HaemCell integrated haematology solution

Northampton, UK: Drawing on its many years of haematology expertise, HORIBA Medical-UK today launches HaemCell, a totally customisable haematology package that facilitates the entire haematology process, both in the laboratory and at the point of care (POC). A fully integrated solution, HaemCell can be tailored to specific requirements to cost effectively provide automated clinical analysis, data management and customer support; ultimately enhancing clinical decision making and improving patient outcomes.

Five different elements make up the HaemCell solution. Customers benefit from a tailored product mix of HORIBA Medical's automated haematology analysers for LEAN working, POC testing solutions, HemaCAM computer-assisted microscopy for automated analysis of blood smears, as well as the ABX Pentra ML data manager overseeing all haematology procedures. All of these are assisted by powerful customer support services, including HeLP (the HORIBA Medical e-Learning Portal) online training courses and the Pentra SAfe solution for CPA compliant remote access to POC analysers, plus analyser and process optimisation to improve laboratory workflows.

"Using feedback from our customers, we've created HaemCell to provide automated clinical analysis, data management and customer support services within one fully customisable package, to result in completely cohesive, cost-effective haematology solutions," explained Cleve Wright, UK Manager. "By applying our extensive haematology expertise, we can produce tailored combinations that deliver the results quality, flexibility, security and process efficiency for effective clinical decision making, enhanced patient care pathways and improved patient outcomes for both the NHS and private sector."

For more information please visit www.horiba.com/uk/medical/feedback/haemcell/

ABOUT HORIBA Medical - UK: http://www.horiba.com/uk/medical

Analysis Anywhere: HORIBA Medical - UK (formerly known as HORIBA ABX) is a renowned specialist in the design and manufacture of automated in vitro diagnostic systems for haematology for over 25 years, and chemistry focused analytical solutions for over 10 years. From compact to high throughput systems, HORIBA Medical has successfully developed an array of analysers and data management solutions to meet all needs, enabling LEAN analysis anywhere it is required.

Specialist bench top analysis: In addition to large NHS laboratories and Point of Care settings, HORIBA Medical systems are also found in many areas of industry requiring specialist analysis, including veterinary diagnostics, sports science, food and beverage, pharma and neutraceuticals, and clinical research. The company's benchtop analysers, such as the ABX Pentra 60 C+ for haematology and ABX Pentra 400 for chemistry analysis, are proving their worth in these environments due to their exceptional flexibility and ease of use.

Animal healthcare products: In addition to haematology and clinical chemistry analytical solutions, HORIBA Medical also now offers endoscopy products, as well as surgical and therapeutic diode laser technology for veterinary professionals.

Trusted expertise: HORIBA Medical is one of the five major operators in the automated haematology analyser market. Headquartered in Montpellier (France), the company employs more than 1,000 staff in its sites and subsidiaries, producing nearly 7,500 analysers per year and over 8,000 tons of reagents. This makes HORIBA Medical the leading developer and manufacturer of haematology diagnostic systems in the world equipping more than 27,000 laboratories in over 110 countries worldwide.

In the UK, the foundation of HORIBA Medical is built around its excellent support network of 31 personnel. The dedicated sales, service, technical and administration teams strive to ensure customers can work as smoothly and efficiently as possible, whatever their location. The scientific expertise within these teams provides customers with an educational and reference resource, and even assists in research and evaluation projects.

More from Optics & Photonics