Integrated Console Shredder destroys materials at source.
Press Release Summary: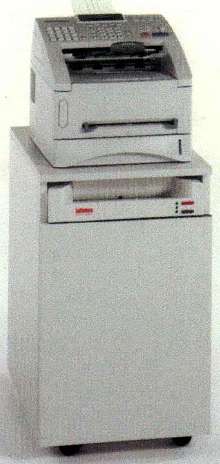 Model 402 integrated shredder/flat surfaced cabinet accommodates fax machines, small copiers, computer printers, and multifunctional devices. Unit provides document and media security as well as storage space for paper and supplies. Shredder handles paper items such as corporate documents, payroll reports, and checks; ID cards; paperclips/staples; and CD-ROMs.
---
Original Press Release:
Shredders as Furniture? Intimus Offers a Practical, Multifunctional Piece of Furniture that has a "Secret" Purpose!

Sanford, North Carolina: The time tested Intimus 402 series of data shredders have proven to be exceptional sellers in the commercial marketplace. Now, Intimus brings in Furniture! This integrated shredder/flat surfaced cabinet is perfect for fax machines, small copiers, computer printers, and multifunctional devices. With the space saving and completely functional large surfaced cabinet; the 402 Integrated Console Shredder offers document and media security at the source. The point of origin for 95% of all confidential data is right there in all of those machines. Whether you create a corporate document, payroll report, write a check, or have confidential items backed up to CD Rom, have your "data security police" close at hand for immediate and complete destruction. Print, Copy, Fax, Burn, and Shred, all in one convenient spot. There is even room for paper and supply storage! Intimus shredders are built tough for continuous operation. They never need to stop for overheating and they can handle the largest of jobs including CD's, ID cards and staples or paper dips with ease. Intimus leads the pack with innovation and technology advancements. This clever combination will solve your data problems in the blink of an eye! Keep your secrets safe with shredders by Intimus. Intimus Data Shredders have been available for over 30 years through a worldwide dealer network that is second to none. Schleicher Dealers all benefit from competitive prices, quick turn-around, very personal sales support and "on the spot" technical assistance.

Security Solutions from Schleicher...Superior by Design.
More from Software