Insulated Roll Door targets cold storage industry.
Press Release Summary: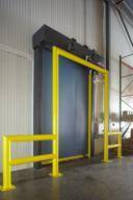 With peak speed of 182 ips, Turbo-Seal® Insulated Door maintains critical temperatures while optimizing productivity of traffic. Door has 1 in. thick, closed-cell foam, Rilon Thermal panel that is non-porous and moisture-proof. Quad Seals(TM) in side columns and integrated thermal breaks in doorframe minimize air infiltration and heat conduction. Combination of thermal performance and sealing technology enables door to operate virtually frost-free without heating elements.
---
Original Press Release:

Rytec Opens World's Fastest, Most Energy Efficient, Insulated Door for Cold Storage Industry



JACKSON, Wis., -- With a peak speed of 182" per second, Rytec Corporation has introduced the fastest insulated roll door available for refrigerated and frozen food warehouses. The new Turbo-Seal® Insulated door maintains critical temperatures by combining the highest average opening speed with the lowest total cost of operation--all without a heated defrost system.

Faster In and Faster Out

As competition in the cold storage and distribution industry increases, so does the need for speed. Customers expect food and beverages to get there faster and at a lower price. As a result, the speed of warehouse doors is directly connected to the efficiency of material handling traffic. With a peak speed of 182" per second, the new Rytec door takes speed to a new level. The record speed increases the productivity of traffic because forklifts and pallet jacks don't waste time waiting for doors to open.

Maintain Environment for Quality and Safety

In addition to the flow of traffic, temperature and humidity are critical in the cold storage industry. Quality suffers if temperatures fluctuate or if ice forms on the product. Frost and ice can also create a safety hazard due to slippery floors. As a result, productivity is often hindered, especially when moving material. Compounding the issue, refrigeration systems must work overtime to compensate for the infiltration of air and the heat from conventional defrost systems.

Lower Energy Meets Higher Performance

The development of an energy efficient cold storage door has eluded engineers for decades. By reducing energy costs over 90%, the new Turbo-Seal Insulated door from Rytec reshapes the performance expectations of the entire cold storage industry.

Exceptional thermal performance combined with unrivaled sealing technology enable the Turbo-Seal Insulated door to operate virtually frost-free without heating elements. Rytec's exclusive one-inch thick, closed-cell foam, Rilon Thermal panel is non-porous and moisture-proof. With higher R-values than conventional flexible doors, the thermal resistance provided by the closed-cell foam is balanced with the durability and long-lasting performance of the Rilon core. Quad Seals(TM) in the side columns and integrated thermal breaks in the doorframe substantially reduce air infiltration and heat conduction. Because it performs day in, day out without a heated defrost system, it saves thousands of dollars in operational costs annually compared to doors with conventional heated defrost systems.

The Turbo-Seal Insulated door's other special features include the advanced System 3® door controller, Ry-Wi(TM) wireless technology, a new and innovative threshold safety light system and a fully-automatic self-repairing system. In the rare case a door is hit by a forklift, the self-repair system automatically restores and resets the door in just seconds without any human intervention.

For an industry with increasingly tight margins, the new Turbo-Seal Insulated door from Rytec provides the lowest cost of operation with one of the highest returns on investment. Contact a Rytec representative to request a risk-free energy analysis, or visit www.rytecdoors.com for more information.

About Rytec Corporation

With over 100,000 doors in operation worldwide, Rytec Corporation is the nation's leading manufacturer of high-speed, high-performance doors for industrial, commercial, pharmaceutical and cold-storage environments. Every door addresses a specific operational and environmental challenge, and is engineered for maximum safety, productivity, and efficiency. Corporate offices and manufacturing operations are headquartered in Jackson, Wisconsin, a suburb of Milwaukee. Customer support is provided through national and regional offices and a network of local dealers and installers throughout North America.

CONTACT: K. Angermeier of Rytec Corporation, +1-262-677-6170, kangermeier@rytecdoors.com

Web Site: www.rytecdoors.com/

More from Machinery & Machining Tools