Instrumentation Amplifier are compatible with all 12, 16, or 24-bit A/D devices.
Press Release Summary: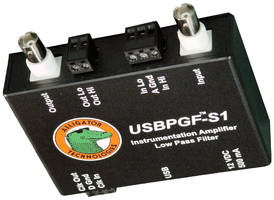 Available in USBPIA-S1™ and USBPGF-S1™ models, Instrumentation Amplifier comes with ready-made windows application and Software Development Kit. Controlled from external source, product provides 0.1 Hz to 200 kHz low pass filter corner frequency. Suitable for filtering applications in sound and vibration testing, units each module is wired for different or single-ended measurement. Unit provides 90 dB attenuation and gain steps up to x10000.
---
Original Press Release:
New USB Signal Conditioning, Filter, and Instrumentation Amplifier for Data Acquisition with Expanded x10000 Amplification and x64 Software SDK
Alligator Technologies, a leading supplier of data acquisition and signal conditioning products, today introduced new x10000 amplifier gain enhancement for their popular USB controlled USBPIA-S1™ single channel programmable signal conditioning instrumentation amplifier and the USBPGF-S1™ instrumentation amplifier with low pass filter.
Extremely configurable in a wide variety of applications, the completely software configurable USBPGF-S1 low pass filter is available in a wide range of filter characteristics and along with the USBPIA-S1 instrumentation amplifier can now amplify signals below 1mV to standard ADC resolvable levels. Each USBPxx-S1 has intelligence built in to configure itself from power-up with changeable but non-volatile parameters and operates independently in both a "turn-key" or host computer controlled scenario.
The SystemView USBPxx™ software package includes a ready-made windows application and Software Development Kit (SDK) which has been expanded to include detailed language specific API examples and native ActiveX/COM object support for Win32 or x64 application program development. The USBPxx-S1 line is completely compatible with all 12, 16, or 24-bit A/D devices and is ideal for filtering applications in sound and vibration testing, ultrasonic, acoustic, structural analysis, industrial, test, scientific and laboratory data collection, mechanical applications in electronics, aerospace, field research, automotive, and process control industries.
The USBPxx-S1 products provide users with the ability to mix and match filter characteristics and independently select and program each module's coupling (AC or DC), corner frequency, gain steps up to x10000 in either single-ended or differential measurements. Most filter products are too limiting and inflexible for many applications. This is not the case with the USBPxx-S1, as each unit can be configured as an 8-pole Butterworth, Bessel, elliptic, or linear phase filter characteristic making this product line one of the most flexible in its class.
The USBPxx-S1 is very easy to connect and use. Each module can be independently wired for differential or single-ended measurement, attenuation up to 90 dB, and AC or DC software selected signal coupling. The USBPxx-S1 has an internal corner frequency control source or it can be dynamically controlled from an external source providing a low pass filter corner frequency from 0.1 Hz to 200 kHz (depending on the filter characteristic) and syncing for tracking filter applications. In addition, connection within the sampling system is a breeze with modular screw terminal connection plugs and BNC connectors built into the USBPxx-S1.
Pricing and Availability
Available from stock to three weeks ARO, the USBPIA-S1 is priced at $278 and the USBPGF-S1 is $358. Each product comes with a one-year limited factory warranty and a lifetime of free customer support and software updates. Upgrades of existing USBPxx-S1 products to the enhanced gain features are available. OEM and dealer inquiries are welcome.
About Alligator Technologies
Founded in 1984, Alligator Technologies has been developing an expanding line of filter and amplifier products since 1991. The company's current product line also includes the SCS-800 high performance portable or rackmount signal conditioning system with special function adapters for strain gauge, accelerometer, RTD, thermocouple, 0-20mA devices, accelerometer and piezo-bridge sensors.
Contact
For more information about the USBPxx-S1 line or other products from Alligator Technologies, contact
Robert Galter,
Alligator Technologies,
2183 Fairview Road, Suite 220,
Costa Mesa CA 92627.
Tel: 949-515-1400.
E-mail: sales@alligatortech.com
visit http://www.alligatortech.com.
Contact This Company Download Spec Sheet
More from Controls & Controllers