Instrument Control Software aids electrical test execution.
Press Release Summary: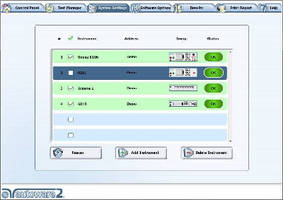 Equipped with interactive tools, Autoware 2 helps users set up, modify, and execute electrical tests. BatchTEST feature enables users to test multiple DUTs simultaneously. Combined with scanning matrix, users can perform AC/DC Withstand tests on variety of DUTs in one step. In event of failure, Autoware 2 will automatically test each individual DUT to isolate cause. LLT Auto Fill feature allows users to set up multiple line leakage tests without creating multiple test steps.
---
Original Press Release:

Associated Research, Inc. Announces the Release of the Autoware 2®, their Next Generation Automation and Data Collection Software Suite



Autoware 2™ revolutionizes the way instrument control software is used for electrical safety testing

 

Lake Forest, Illinois, January 2013 – Associated Research, Inc. announced today the release of their Autoware 2™ automation and data collection software suite. Autoware 2™ improvements begin with an intuitive graphical user interface that is both user-friendly and easy to navigate.   Drag and drop functionality makes setting up, modifying and executing tests quick and efficient. With a focus on safety and productivity, Autoware 2 provides color visual indicators as well as detailed feature explanations in order to make test setup and data analysis seamless.

 

Autoware 2™ includes several new features that revolutionize the way electrical safety tests are performed.  BatchTEST™ allows operators to shave minutes off total test time by testing multiple DUT's simultaneously. Combined with a scanning matrix, users can perform AC/DC Withstand tests on several DUT's in a convenient 1-step test. In the event of a failure, Autoware 2 will automatically test each individual DUT to isolate the cause of the failure.

 

The LLT Auto Fill feature reduces setup time by allowing medical device manufacturers to configure multiple Line Leakage test steps with a single click. While traditional software programs require a customer to tediously setup at least 8 Line Leakage test steps, Autoware 2 automates this time-consuming process.

 

With Autoware 2™ operators can configure multimedia prompts to provide instructions to the test operator before a test executes. From simple text messages to images, audio and even video clips, the ability to create multi-media prompts helps ensure that the test operator performs a safe and effective test.

 

Using automatic instrument detection, Autoware 2™ automatically identifies the test instruments that are connected to the system, streamlining the setup process for a safe electrical safety testing workstation. Compatible instruments include: Associated Research OMNIA II series, LINECHEK II, SC6540, and OMNIA 8000 & 8100 series. Autoware 2™ is also compatible with Associated Power Technologies 300XAC, 7000, and 6000 series of AC power sources for use during Line Leakage and Run testing.

 

Autoware 2™ is available in two different versions to satisfy a wide variety of application requirements. The Full version includes all the features and functions of Autoware 2™. The Data Logging version provides a more economical option for users who only need to capture and log test data. Each version is provided with 3 user licenses.

 

Autoware 2 is available for immediate download and comes with a 30 day free trial. Visit Associated Research to learn more: http://www.asresearch.com/products/software/autoware2.aspx

 

Founded in 1936, Associated Research, Inc. is a worldwide leader in Electrical Safety Compliance Testing Instruments.  Contact the company at 1-800-858-TEST (8378), e-mail at info@asresearch.com or visit their site at http://www.asresearch.com

More from Material Handling & Storage