Inspx Offers Latest SHIELD Trio X-Ray Inspection System That Provides Multi-Dimensional Analysis
Press Release Summary: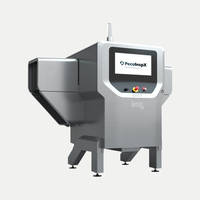 The SHIELD Trio X-Ray Inspection System uses a single X-Ray tube for producing triple beam inspection. The system runs at lower inspection sensitivity at reduces false rejection rates. It is suitable for applications where hard to detect pieces of foreign materials are present.
---
Original Press Release:
Peco-Inspx Announces Research Findings on the Benefits of Multi-Beam X-Ray Inspection
Multiple Beam X-Ray Inspection Can Improve The Probability of Detection by over 400%.
SAN CARLOS, CALIF. (PRWEB) DECEMBER 31, 2018 - Today, Peco-Inspx announces a material improvement to the SHIELD Trio X-Ray inspection system, resulting in an enhancement of the detection performance without imposing a material cost or complexity to the inspection process.
One of the greatest areas of advancement in X-Ray inspection systems for the food and beverage industries is the development of multiple beam systems. In the past, the complexity (and subsequent loss of reliability) of multi-beam systems over their single beam counterpart negated any improvement in inspection performance they may have offered; until now, these more capable multiple beam systems have just not been worth the incremental investment. 
The fundamental reason multi-beam systems have such a material advantage in detection performance is that they provide a multi-dimensional analysis of the product and any associated contaminants. Multi-dimensional analysis is extremely valuable because in the real world, contaminants are often asymmetric (often with a very thin dimension and an associated longer or thicker dimension such as a shard of glass or long thin bone). Many of these contaminants are also low in density, which further makes them challenging to detect.
Peco-InspX just completed a comprehensive study of the detection performance of its SHIELD Solo single beam X-Ray system versus its SHIELD Trio triple beam X-Ray system to understand the inspection performance differences for low-density asymmetric contaminants. The differences in detection performance are material. For a contaminant like a Teflon washer, a textbook example of an asymmetric piece of foreign material, the Trio provided between a 200% and 400% greater probability of detection over a single beam system. Additionally, because multiple beam systems can run at a lower inspection sensitivity than their corresponding single beam counterparts, the false reject rates of multi-beam systems can be significantly lower, too.
Traditionally, the operational complexity of multiple beam systems made them expensive to operate. However the SHIELD Trio is unique in that it uses a single X-Ray tube to produce a triple beam inspection, which means that the operational cost of owning the Trio is just modestly higher than that of its Solo cousin.
"Customers demanding the absolute best in foreign material detection should review the performance of Peco's multi-beam systems. For many applications, a system such as the SHIELD Trio offers the absolute highest standard of quality assurance and offers the greatest probability of finding those hard to detect pieces of foreign material," commented Peco-InspX CEO Rich Cisek.
To learn more about the benefits of multi-beam inspection, please visit peco-inspx.com.
About Peco-InspX 
Peco-InspX Corporation is a leading provider of advanced technology inspection solutions for the food and beverage industries. With headquarters in Silicon Valley (San Carlos), CA and European headquarters in Nuneaton, UK, the company serves customers around the world and inspects over 120 million food and beverage containers daily. The company specializes in accurate high-speed package inspection in machines that are easy to use with a low cost of ownership.
Contact Information
PR Dept.
Peco-Inspx
(877) 722-6875
More from Architectural & Civil Engineering Products