Inspection System inspects cannons, mortars, and howitzers.
Press Release Summary: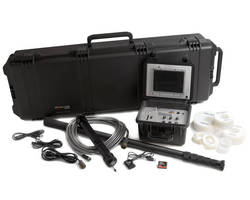 Along with centering devices for 57, 60, 81, 105, 120, and 155 mm bores, iShot M4(TM) Gun Tube Inspection System includes dual view camera head, camera controller console, 4 GB CF card, armored 25 foot camera cable, and 17 ft telescoping push pole, all in rugged waterproof carrying case with all necessary video cables. Front view camera has fixed focus with 115° field of view, while side view camera allows user to remotely focus camera, displaying any wear or corrosion within gun tube.
---
Original Press Release:

InterTest, Inc. Introduces the iShot M4(TM) Gun Tube Inspection System



InterTest Inc. of Columbia, NJ introduces the iShot M4(TM) Gun Tube Inspection System, designed for the internal inspection of cannons, mortars and howitzers. The 14-inch length x 52mm outer diameter camera head visually reveals the general state of a gun tube's interior at high magnification. The camera head is equipped with two high-resolution CCTV cameras for optimal inspection of the rifling's condition. The front view camera has a fixed focus with 115-degree field of view. The side view camera allows the user to remotely focus the camera displaying any wear or corrosion within the gun tube. The ruggedized iShot M4(TM) Gun Tube Controller Console is equipped with a built in 8 inch monitor allowing the user to view the inspection while adjusting focus, light intensity, and recording all in one shot. The controller console is also equipped with a CF reader, USB Cable, 4GB CF Card, DVR Serial Port and PS2 for your keyboard. The included centering devices ensure the camera head is consistently in a centralized position within the gun tube achieving maximum inspection performance. Centering devices are designed for 57mm, 60mm, 81mm, 105mm, 120mm and 155mm bores (additional sizes available upon request). The 17-foot telescoping push pole allows for easy insertion and measurement graduations in both US Standard and Metric, aiding in the identification of the flaw or corrosion location in the bore. Applications include; Tank Gun Tube, Mortar Tube, Ship Gun Tube, Turbine Rotor Bores, Generator Rotor Bores, Shaft and Pipe Inspections.

The M4 Gun Tube Inspection Kit Includes: Dual View Camera Head (14 inch x 52mm OD), Camera Controller Console, Set of 6 Centering Devices, 4GB CF Card, Armored 25 foot Camera Cable, 17 foot Telescoping Push Pole, Rugged Water Proof Carrying Case (47.2 x 16.5 x 9.2 in.) and all necessary Video Cables. Model# EM14640

Established in 1981, InterTest Inc. offers RVI and NDT systems, as well as, custom engineered solutions manufactured in our NJ facility. Our customers include, but are not limited to the following industries: Aerospace, Security, Welding, Nuclear & Water Power Generation, Refineries, Mines, Bridge & Highways and Military.

Related