Inspection System detects wafer edge defects.
Press Release Summary: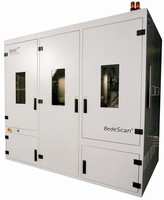 Sensitive to dislocations, precipitates, mechanically introduced cracks, and inclusions, BedeScan(TM) defect inspection system is capable of looking at process induced defects on surface of wafer and detects crystallographic abnormalities inside wafer that can lead to wafer breakage. System monitors pin marks, thermal slip dislocations, misfit dislocations, back-side and front-side scratches, as well as surface and buried mechanical edge damage.
---
Original Press Release:

Bede X-ray Metrology Launches New Wafer Edge Defect Inspection Capability using Patented BedeScan(TM) Technology



DURHAM, UK - Bede X-ray Metrology, a leading global provider of X-ray metrology systems to the semiconductor industry, is pleased to announce the launch of a new Wafer Edge Defect Inspection capability using its patented BedeScan(TM) defect inspection system. This unique tool is capable of looking at process induced defects on the surface of the wafer, but crucially it can also detect crystallographic abnormalities inside the wafer which can lead to wafer breakage, and, therefore, problems with device yield.

Dr Keith Bowen, Chief Scientist for Bede commented, "The ability to look closely at the wafer edge is becoming more crucial at the 90nm technology node and below, especially as SEMI now has new standards for wafer edge quality. Problems with wafer breakage during IC processing can be attributed to structural defects in the edge of the underlying wafers. The digital imaging technique used by the BedeScan(TM) allows IC and wafer manufacturers to look closely inside the wafer at buried defects, instead of just on its surface (as with traditional film inspection methods) to reveal damage which has probably been incurred during wafer handling.

The BedeScan(TM) has a variety of applications including sensitivity to dislocations, precipitates, mechanically introduced cracks, and inclusions at any depth within the wafer. The system monitors pin marks, thermal slip dislocations, misfit dislocations, back-side and front-side scratches, surface and buried mechanical edge damage, precipitates, inclusions and overall lattice parameter and strain variations.

The BedeScan(TM) laboratory analytical system was launched last year at Semicon West and featured in the Technology Innovation Showcase. Bede is currently working on developing the next generation BedeScan(TM), a fab-ready and fully automated tool conforming to industry standards. This dual mode system will provide scans of the edge exclusion zone in a revolutionarily fast time and also detailed X-Ray Diffraction Inspection maps of the critical areas once potential defects are found.

Bede is the global leader in non-destructive X-ray metrology systems for the semiconductor industry.

Bede's product range also includes the BedeMetrix(TM) family of X-ray metrology systems - the BedeMetrix(TM)-L process control system for semiconductor research and development and the BedeMetrix(TM)-F process control system for high volume semiconductor manufacturing. Applications include strained silicon process control (with ScribeView(TM) small spot optics), ultra thin barrier metal process control and metal stack process control.

Bede was founded in 1978 and is headquartered in Durham, UK. The company has sales and service offices in Denver, Colorado (USA), as well as a global network of distributors, including Tokyo Electron (TEL) in Japan. In Prague, Czech Republic, Reflex sro operates as a subsidiary of Bede and provides specialist X-ray technology to the Bede Group.

For more information contact:
Frank Hochstenbach, Sales & Marketing Director
BEDE X-RAY METROLOGY
Belmont Business Park, Durham, DH1 1TW, UK
Tel: +44 (0)191 332 4700;
Fax: +44 (0)191 332 4800
E-mail: frank.hochstenbach@bede.co.uk

More from Mechanical Power Transmission