Inspection Software views thermal profiles of molds.
Press Release Summary: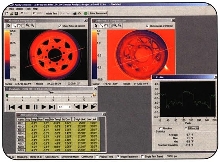 Mold Inspector Software combined with Stringer Thermal Imaging Camera, provides real-time images of hot molds at speeds up to 60 frames/second. Data can be stored for playback at different speeds, used for online process control, or exported into database for quality control. Min, Max, and Avg temperature data can be displayed numerically for each Area Of Interest (AOI). Software is useful for determining mold wear, cracks, and improper cooling.
---
Original Press Release:

Ircon Introduces Mold Inspector Software


NILES, IL - The Mold Inspector Software is the latest thermal imaging solution from Ircon. Mold Inspector is the first software package on the market designed specifically for viewing the thermal profiles of molds in industries such as plastics, glass, metals, and ceramics.

The software, combined with Ircon's Stinger Thermal Imaging Camera, provides real-time images of hot molds at speeds up to 60 frames per second. This image data can be stored for playback at different speeds, used for online process control, or exported into a database for quality control purposes. The Mold
Inspector software package is fully user-configurable, and allows for set up, display, and archiving of thermal images. Minimum, Maximum, and Average temperature data can be displayed numerically for each Area Of Interest (AOI) drawn on the screen. Absolute and differential temperature images of the process can be displayed simultaneously to provide a usable thermal image of the characteristics of the mold. Because the software was written for the familiar Windows® platform, point-and-click tools are easily utilized - including ones for drawing, zooming, printing, and changing color palettes. Simply begin an image capture, position the cursor to the Area Of Interest, and customize the view on the fly. The temperature image can be
optimized using standard color palettes. Regions of interest in the forms of circles, rectangles, or free-form shapes can be drawn around target zones to monitor hot or cold spots in the process. The Areas of Interest (AOI's) can be keyed to alarms and can ultimately be used as outputs for process control purposes.

The Mold Inspector software is a useful tool for determining mold wear, cracks, and improper cooling. The software can be used in R&D applications to improve mold design. Production Engineers can look at molds during setup and after the part is ejected to see if mold release resins are being applied properly. Plugged cooling ports on the mold are seen as hotspots and can be dealt with prior to running a batch; thus saving on scrapped product and additional down time.

For more information on the Mold Inspector Software package, or any of the products in IRCON's product line contact IRCON, Inc., 7300 North Natchez Avenue, Niles, IL 60714; tel:1-800-323-7660 ext. 258; fax: 847-647-0948; or get downloadable versions of this press release and the following images at ircon.com/pressinfo.html


Related