Floor, Lift Truck and Conveyor Scales
Insertion Weigh Belt exceeds USDA standards.
Press Release Summary: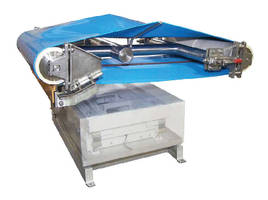 Built with stainless steel frame, Ultra-Sanitary Model SI features troughed belt to keep product away from edge, eliminating need for side skirts. Entire conveyor assembly is coupled to mass counter-balanced Force Measurement Suspension System that allows load cell selection based on net, rather than gross weighing requirements. Unaffected by dirt, shock, or vibration, system can withstand overloads in excess of 1,000% of rated capacity without damage or calibration drift.
---
Original Press Release:

THAYER SCALE Introduces the New Model SI Ultra-Sanitary Insertion Weigh Belt



Model SI is Built to Exceed USDA Standards for Cheese, Dairy, Meat, Poultry, Confectionary, Baked Goods, Prepared Foods and More...

Pembroke, MA -- Thayer Scale, a pioneering developer of continuous weighing and feeding equipment, introduces the new Model SI Ultra-Sanitary Insertion Weigh Belt, designed to provide accurate, reliable weighing performance and quick, easy cleaning for a variety of sanitary applications. The Model SI is built to exceed USDA standards for cheese, dairy, meat, poultry, confectionary, baked goods, prepared foods and more.

Equipment used for food handling, and particularly weigh belts, must be constructed to ensure effective and efficient cleaning over its life span. The equipment design must also eliminate or minimize areas where material can build up such as the support frame, belt and side skirts. With this in mind, the Ultra-Sanitary Model SI features a belt that is troughed to keep product away from the edge of the belt. This eliminates the need for side skirts, which is often a source of material build up with sticky products like shredded cheese.

Unlike conventional weigh belts that feature a weigh bridge installed in the conveyor, the entire conveyor assembly of the specialized Thayer Insertion Weigh Belt is coupled to a patented mass counter-balanced Force Measurement Suspension System (FMSS) that allows load cell selection based on net, rather than gross weighing requirements. This unique system is not affected by dirt, shocks or vibrations and can withstand overloads in excess of 1,000% of its rated capacity without damage or calibration drift.

This unique measurement system is not affected by belt tension and enables heavy and/or specialized belts, that don't provide enough flexibility for use in conventional weigh belts, to be used in the SI Insertion Weigh Belt with uncompromised accuracy.

Some additional benefits and features of the Model SI include:

o The rugged, sanitary design featuring a stainless steel frame that can be cleaned quickly and easily

o A completely enclosed stainless steel motor drive pulley ensures drip-proof, trouble-free operation

o Cantilever frame design and quick release tail pulley allow for belt removal without tools

o Tilting weigh deck enables the SI to be used in a wide variety of chute and conveyor configurations

o Stainless steel rod belt supports provide minimum contact points between frame and belt

o V-guide belt design for positive belt tracking.

Founded in 1949, Thayer Scale is a pioneering developer of continuous weighing and feeding equipment for the dry solids conveying and processing industries. Thayer's Belt Scales and Weigh Feeders of both the Weigh Belt and Loss-in-Weight types, cover an extremely wide range of applications in virtually all industries that involve dry solids conveying and processing. From Loss-In-Weight Feeders that feed vitamins into cereals at rates below 1 pound per hour to 6-Idler Conveyor Scales weighing coal at rates up to 10,000 tons per hour, there are more than 100 proven product variations available to suit most application requirements.

Thayer Scale enjoys a unique reputation as a supplier of equipment that provides the rare combination of measurement precision and extreme robustness. Equipment installed more than 40 years ago continues to operate reliably and accurately.

For more information, contact Thayer Scale-Hyer Industries, Inc. at 91 Schoosett St., Pembroke, MA 02359; telephone, 781-826-8101; fax, 781-826-7944; or visit the company's website at www.ThayerScale.com

More from Test & Measurement