Insertable Refractory Plug comes with stainless steel locking handle.
Press Release Summary: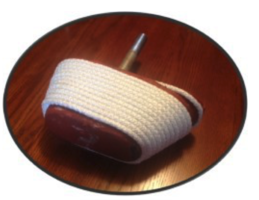 Insertable Refractory Plug is used for plugging smelt flow to a smelt spout and comes with high temperature rope wrapped around the plug that creates a tight seal between metal spout and refractory plug. Unit's locking handle anchors the plug.
---
Original Press Release:
Valmet's Custom Spout Plug and Integrated Locking Handle
The spout deck on a recovery boiler is considered the most dangerous area for operators and one of the leading causes of recordable injuries. To improve safety in this area, Valmet has recently developed a refractory plug that is custom shaped for the Valmet insert able smelt spout. This new product is designed to provide a quick and reliable option for operators to intentionally terminate smelt flow to a smelt spout.
How Does it Work?
The Valmet insertable refractory plug was custom designed to quickly and efficiently plug the smelt flow to a smelt spout when necessary. It works by using a high temperature rope wrapped around the plug as a gasket to create a tight seal between the metal spout and the refractory plug.
The product also includes a stainless steel locking handle integrated into the smelt spout hood enclosure which is designed to quickly install the plug at the proper elevation/alignment and to secure the plug in place to the micro-hood system. The locking handle anchors the plug in the opening with the gasket compressed so it does not unexpectedly become dislodged.
What are the Benefits of the Spout Plug?
With the ability to quickly and safely plug a smelt spout, the ability to perform maintenance work or replace damaged shatter jet parts now becomes safer and more straightforward. When the plug is in place it is now easier to inspect and clean hood internals while the unit is online. It also allows for reducing the number of spouts in service to maintain normal smelt flow under lower operating loads. Customers already using Valmet insertable smelt spouts can purchase these plugs and locking handles as a spare part by obtaining a Valmet "starter kit" which includes all parts needed to begin using the plug.
More from Mechanical Components and Assemblies