Insert Geometry is optimized for grooving and groove turning.
Press Release Summary: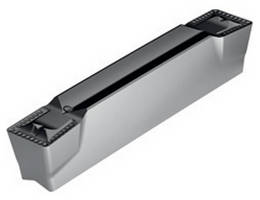 Walter Cut UD4 features multifunctional chip breaker design with double geometry that optimizes chip control. While silver surface facilitates wear detection, 0° primary chamfer strengthens cutting edge. Tiger•tec® Silver PVD Al2O3 coating minimizes friction and promotes wear resistance, while design promotes full usage of cutting edges. Applications include radial grooving and groove turning on forged materials such as transmission components, gears, and shafts.
---
Original Press Release:

New Walter Cut UD4 Insert Geometry Boosts Reliability and Productivity in Grooving and Groove Turning Operations



With its multifunctional chip breaker and optimized PVD surface coating, Walter Cut UD4 increases performance while reducing tooling costs.



Waukesha, WI –Walter has introduced Walter Cut UD4, a new insert geometry for radial grooving and groove turning in the automotive and general metalworking industries that delivers maximum process reliability, optimum chip formation, high levels of productivity and reduced tooling costs.



The Walter Cut UD4 features a new multifunctional chip breaker design that provides superior chip control, thanks in part to its double geometry that delivers a large application area. It has a strong 0° primary chamfer that strengthens the cutting edge, a silver surface that makes for easy wear detection and full usage of cutting edges. It also features a new coating that delivers lower fiction and better wear resistance.



With a standard PVD coating there is typically a high rate of heat transfer into the cutting tool insert substrate, which leads to higher wear rates. With the Walter Cut UD4 Tiger•tec® Silver PVD Al2O3 coating there is less heat in the substrate, leading to higher tool life, reduced tool and tool change cost,  increased process reliability and higher productivity.



The main application area for the UD4 is grooving and groove turning on forged materials such as transmission components, gears and shafts. IT works especially well in low carbon steels where chip control is a particularly big challenge. Targeted workpiece materials are steel and cast iron (ISO P and ISO K).



Walter offers an extensive line up of cutting tools for milling, drilling, turning, boring and specialized tooling for unique applications through its competence brands Walter Valenite, Walter Titex and Walter Prototyp. As well as multi-level service programs through its Walter Multiply brand. Headquartered in Waukesha, Wisconsin the company has a strong network of distributors and field engineers across their subsidiaries in the USA, Canada, Mexico, Brazil and Argentina. The Walter name is synonymous with productivity, thanks to more than 90 years of developing cutting tools and inserts that set new standards in quality, innovation and production.

More from Waste Management & Waste Handling Equipment