Innovative Process Solutions with Powder Systems Limited (PSL) at Interphex New York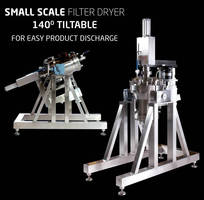 From 21-23 April 2015, PSL is to exhibit at Interphex New York in booth 2232 at the Javits Center, New York, US.



Once again, PSL will be part of the 'Showcasing Pharmaceutical and Biopharmaceutical Innovation, Technology and Knowledge' Interphex event in 2015. As a leading international manufacturer of filtration, drying and high containment solutions, PSL will exhibit one of their latest innovations on their stand 2232 of the Javits Center in New York



PSL USA has been heavily involved in developing microsphere filtration solutions designed to produce microspheres (small spherical particles with diameters in the micrometer range) used for long lasting drug delivery. New applications for microspheres are discovered every day especially in the field of cancer research and biopharmaceutical industry. PSL developed innovative solutions for the downstream formulation of microspheres used as drug delivery devices: Polymer microspheres can work as miniature time release drug capsules within the patient body.



Microsphere formulation process leads to challenging manufacturing issues in a sterile environment and requires specifically designed process equipment to overcome existing process problems. As a forefront process engineering organization, PSL worked closely with industry leaders to develop a unique turnkey solution for the aseptic downstream formulation of polymeric micro-particles. PSL's process experts developed the MicroSphere Refiner™ in response to the challenges faced by drug manufacturers with other techniques such as mesh blocking, lengthy drying and Steam-In-Place (SIP) difficulties. The MicroSphere Refiner is a piece of process equipment combining filtration, cake washing, classification and drying, all in one step, with sterile product recovery. The harvesting of the micro particles is key in the formulation process as the control of particle size distribution affects the time release effect of the micro capsules. PSL technology has been developed to meet such requirements with SIP and full drainability capabilities, and tiltable sterile discharge.



The PSL team will present a scale model of their unique system on their stand 2232 and will be happy to review your formulation process of microsphere products.



PSL filtration solutions also include the innovative laboratory glass filter dryer (GFD®) for easy lab filtration and drying; the pressured simplefilter dryer  for pilot plant applications and a large range of Agitated Nutsche Filter Dryers that are ergonomically designed for washing and isolating solids, even in the most difficult production processes.



PSL provides nano-containment process turnkey solutions for the production of highly potent APIs including cytotoxic, oncology, hormones and many other active compounds. PSL containment solutions comprise a full range of glove boxes and isolators enabling to integrate OEMs allowing users to perform safely the following operations: dispensing and sampling, reactor charging, filtration, tray drying, drum filling, milling and micronizing, sieving, etc. Our isolation systems provide proven containment to nanogram levels for the handling of highly potent powder whilst protecting the operator, product and environment.



The PSL USA team will be entering the Interphex Exhibitor Award with their innovative MicroSphere Refiner™ technology and will also present a case study during the poster sessions on CROSS OVER FROM BCS CLASS III TO HIGH CONTAINMENT APPLICATIONS.  The presentation will be held by Michelle Frisch, Sr Technical Manager of PSL, and will educate the attendees on the crossover from standard BSC Class III cabinets to high containment gloveboxes which addresses the use of volatile toxic chemicals, radionuclides, along with controlled environmental conditions.



Visit PSL at Interphex New York booth 2232 in April 2015 to meet their US team who will showcase PSL's latest innovation, and to discover PSL's extensive range of advanced process and containment solutions.



PSL USA contact:

Michelle Frisch

Senior Technical Manager

(208) 850 8477

michelle.frisch@powdersystems.com



PSL press contact:

Camille Flores – marketing@powdersystems.com – +44 (0)151 448 7741



PSL US Office contact:

Michelle Frisch

Senior Technical Manager

(208) 850 8477

michelle.frisch@powdersystems.com



Company information:

Powder Systems Limited (PSL)

+44 (0)151 448 7700

www.powdersystems.com

info@powdersystems.com



About PSL:

Powder Systems Ltd (PSL) provides a full range of filtration, drying and contained powder handling products to worldwide industry leaders. From small-scale production to full process systems PSL's isolation products provide containment to nanogram levels for handling highly potent APIs.



PSL provides a full service that includes: OEL testing, installation, operator training, aftercare, reliable spare parts and emergency call out to anywhere in the world. PSL has been established for 24 years and has offices and distributors worldwide to easily assist their global customer base.







More from Electronic Components & Devices