Innovation from the Makers of the Original Crescent® Brand Adjustable Wrench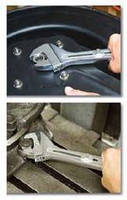 The new Crescent® brand RapidSlide(TM) adjustable wrench helps get jobs done quickly and easily with just a flick of your thumb.

The slide control in the handle provides smooth, fast, and accurate jaw adjustment... just slide the button forward to lock the jaws onto the fastener; pull back to release.

The polished jaws open wide for maximum versatility, and precise laser-etched indicator markings show jaw position for both SAE and metric-sized fasteners.

An extra-wide handle provides exceptional comfort, strength, and bolt-busting power. The new RapidSlide... from Crescent, makers of the Original Adjustable Wrench.

More from Electronic Components & Devices