Innodisk's ServerDOM SSD Wins 2015 Taiwan Excellence Award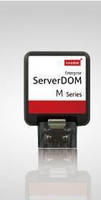 Ultra-Compact Enterprise SSD Boot Drive Judged on Design, RD and Quality



Taipei, Taiwan – Innodisk, the service-driven storage provider, announces it received the 2015 Taiwan Excellence Award for its ServerDOM flash product, a compact SSD designed to fit directly onto the SATA connector of an enterprise 1U rackmount system or blade servers. With 1,155 products nominated from 448 companies this year, the ServerDOM offering Innodisk's Pin 7 power technology was judged on five criteria by the Ministry of Economic Affairs to win this prestigious award.



ServerDOM Boot Drive

Internal storage space for enterprise servers is always a hot commodity, with virtualization, cloud computing and databases demanding ever more capacity. ServerDOM is a compact SSD only 2cm wide and just 7 mm thick, allowing it to easily fit onto the SATA connector of modern enterprise servers directly, saving a drive bay and giving room for more hot-swappable storage. With a height under 3.1cm, it easily fits vertically into 1U rackmount servers and even some blade servers. The SATADOM features Innodisk's Pin 7 technology to eliminate the need for a separate power cable by drawing VCC power directly from Pin 7 of the SATA III connector.



Highly Reliable OS Storage

Offered in enterprise SLC, iSLC, or MLC flash varieties, the ServerDOM SSD is highly reliable. Even at this tiny size, RAID support including Intel RSTe is available. Servers using ServerDOM as a boot drive enjoy high OS reliability and space savings. A second ServerDOM boot drive can also be configured as a failover OS solution, allowing for OS redundancy. Leveraging Innodisk's industrial experience, ServerDOM uses high quality industrial grade components and offers wide operating temperature range. IPMI customization is also available for ServerDOM, allowing for enhanced system management capabilities.



For more details, visit Innodisk's ServerDOM product page.



Taiwan Excellence Award

For 22 years the Taiwan Excellence award has been the most prestigious accolade in Taiwan, recognized innovative products which offer high value to the marketplace. Selected by the Ministry of Economic Affairs, this year 1,155 products were nominated for the award from 448 companies judged on RD, Design, Quality and Marketability and "Made in Taiwan".



About Innodisk

Innodisk is a service driven provider of flash memory and DRAM products for the industrial and enterprise applications. With satisfied customers across the embedded, aerospace and defense, cloud storage markets and more, we have set ourselves apart with a commitment to dependable products and unparalleled service. This has resulted in products including embedded peripherals designed to supplement existing industrial solutions and high IOPS flash arrays for industrial and enterprise applications. The expanded business lines are leading our next step in being a comprehensive solution and service provider in industrial storage industry.



Founded in 2005 and headquartered in Taipei, Taiwan with engineering support and sales teams in China, Europe, Japan, and the United States, Innodisk is able to support clients globally. With abundant experience and an unrivaled knowledge of the memory industry, Innodisk develops products with excellent quality, remarkable performance, great cost-efficiency, and the highest reliability. For more information about Innodisk, please visit http://www.innodisk.com.

More from Communication Systems & Equipment