Inline Spark Arrestor cools glowing embers in exhaust duct.
Press Release Summary: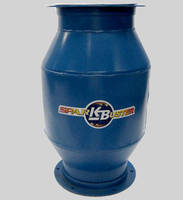 By changing characteristics of gas flow through duct from laminar to turbulent flow, SparkBuster cools sparks to within 200°F of gas temperature in duct. Static mixing device is suitable for spark arrestor duty and, under prescribed conditions, will eliminate any sparks and embers from air stream. Available in 4 in. sizes and up, SparkBuster has auto-self-cleaning option and no moving parts. Unit can be installed in both new and existing systems, as well as flanged or clamp-together systems.
---
Original Press Release:
K&B Duct Launches Sparkbuster Inline Spark Arrestor that Cools Glowing Embers within Exhaust Ducting System
Greensboro, North Carolina- K&B Duct, A CECO Environmental Company and leading supplier of pre-fabricated ducting products developed for environmental dust collection, introduces SparkBuster, an inline spark arrestor. The SparKBuster is a static mixing device that operates by cooling glowing embers within the exhaust ducting system. It cools the sparks by changing the characteristics of the gas flow through the duct from laminar to turbulent flow. This change in type of flow causes a relative velocity difference between the sparks and the gas flowing past the sparks. It is effective when the air temperature in the process is lower than the spark temperature. The sparks will be cooled to within 200°F of the gas temperature in the duct. The SparKBuster is suitable for spark arrestor duty and, under prescribed conditions, will eliminate any sparks and embers from the air stream.  It has a slim, inline design, is low to no maintenance, has an auto-self-cleaning option available and no moving parts.  The easy installation, in both new or existing systems as well as flanged or clamp-together systems, allows for quick deployment of a spark arrestor in your dust collection system.  Sparkbuster is available in 4 inch sizes and up and special fabrication is available.

Kirk & Blum is the nation's largest and one of the oldest manufacturers of industrial sheet metal components for more than 100 years. Its parent company, CECO Environmental Corp,. is a leading global environmental technology company focused on critical solutions in the air pollution control, energy and fluid handling and filtrations segments.  Kirk & Blum has a complete offering of ducting - flanged and clamp-together, individual components or complete systems with accessories, as well as both custom and special fabrications. Using the latest technology and production techniques, Kirk & Blum will provide free design for the development and fabrication of custom products and is renowned for the full service and highest quality guaranteed.

For more information:
Kirk Figan, National Sales Manager
USA, Canada, Mexico
K&B Duct/Component Part
a CECO Environmental Company
8735 West Market Street
Greensboro, NC 27409
866-562-3828
www.kbduct.com
 
More from Electronic Components & Devices