Inline Programming Feeder supports placement machines.
Press Release Summary: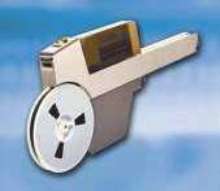 ProLINE-RoadRunner automated programming feeder supports Siemens' HS60 and C Class SMT electronics assembly machines. It removes blank devices from carrier tape, programs 4 devices in parallel, and delivers them to pick-up point of placement machine, making sure that all parts are programmed and verified. ProLINE-RoadRunner is used by manufacturers of cell phones, automobiles, and electronics products containing NOR, NAND, and M-Systems Flash memory devices and microcontrollers.
---
Original Press Release:

Data I/O® Announces Support for Siemens' HS60 and C Class SMT Placement Machines with ProLINE-RoadRunner, the World's Fastest Inline Programmer


Redmond, WA, November 11, 2003 - Data I/O® Corporation (NASDAQ:DAIO), the leading provider of manual and automated programming systems, today announced ProLINE-RoadRunner(TM) support for Siemens' HS60 and C Class (CS and CF) surface mount technology electronics assembly machines.

Data I/O's innovative ProLINE-RoadRunner(TM), the world's only high speed, automated inline programming feeder, is used by high-volume manufacturers of cellular phones, automobiles, consumer electronics and other electronics products containing high-density NOR, NAND and M-Systems Flash memory devices and microcontrollers. The ProLINE-RoadRunner brings cost efficiencies and a higher level of quality to electronics manufacturing. The programming system removes blank devices from carrier tape, programs four devices in parallel and delivers them to the pick-up point of the placement machine, guaranteeing that 100% of parts placed on board are programmed and verified, seconds before in-circuit test.

"Adding support for the SiPlace family's HS60, CS and CF series of placement machines from leading SMT equipment supplier Siemens Dematic is an important milestone for the ProLINE-RoadRunner," said Mark Briant, Product Marketing Manager - Automated Systems. "The programmer support for both the very high volume SIPLACE HS60 and economical medium volume flexible C class machines is of strategic importance because it offers a cost-efficient programming solution for Siemens customers that meets their manufacturing needs in today's competitive environment."

The ProLINE-RoadRunner already supports the F4, F5, S20, S23, S25, S27, and HS50 models of placement machines from Siemens, as well as Universal Instruments, Fuji, Panasonic and Assembleon machines.

In the world of consumer electronics, original equipment manufacturers (OEMs) are faced with unpredictable scales of demand for product sales. Coupled with increased product functionality and features, product life cycle management is becoming ever more critical. Gone are the days of manufacturing in large batches. Retailers can no longer stock a cell phone or a PDA for long for fear it will become outdated, pushing inventory issues further up the supply chain. Electronics manufacturing must be more responsive to product demands and managing inventories. The need to reduce time-to-market for every new product innovation is changing the landscape of electronics manufacturing. One key is the ProLINE-RoadRunner automated programming system that allows manufacturers the flexibility to handle a higher product mix with much lower volumes.

Data I/O's Connected Programming Strategy
Data I/O's Connected Programming Strategy links a manufacturer's programming process around the globe, allowing engineering design to quickly communicate firmware changes from design to high-speed, automated production. With software changes seamlessly communicated to the production line, the time it takes to reset algorithms and programming code is reduced from hours or even days to minutes, and errors in reconfiguring information from engineering to the manufacturing floor are eliminated.

By managing the firmware changes easily up and down a supply chain, the strategy has significant leverage for the financial results of a manufacturing operation, by minimizing costly time-to-money and time-to-market delays.

FlashCORE is the high-speed programming architecture underlying Data I/O's ProLINE RoadRunner(TM) automated inline programming system, the PS300(TM) FlashCORE high-speed offline handler, and FlashPAK(TM) desktop programming system.

About Data I/O
Celebrating 30 years of innovative leadership in the device programming industry, Data I/O Corporation® (NASDAQ: DAIO) provides manual and automated device programming systems that specifically address the requirements of engineering and manufacturing operations. Data I/O Corporation is headquartered in Redmond, Washington, and has sales and service offices worldwide. For more information, see www.dataio.com or call 800-426-1045.

More from Machinery & Machining Tools