Impeller / Propeller / Turbine - Agitators / Mixers
Inline Mixer uses disposable mix elements.
Press Release Summary: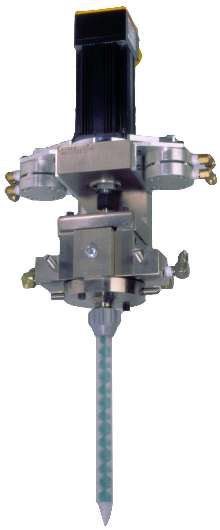 Able to perform low-pressure processing without use of solvent flushing, ParaDyne is equipped with non-drip feature that minimizes mixed material dripping during indexing sequence. Pull- or snuff-back action decompresses mixer chamber and holds material inside mixer until mix head can be indexed to next part. Product incorporates 2-component mix head that utilizes servo, hydraulic, or air-driven motors. Optimal mix occurs when unit is set at 2,000-5,000 rpm.
---
Original Press Release:
Decker Introduces Paradyne(TM) Mixing Technology
PALM CITY, Florida-Decker Industries, Inc., a leading manufacturer of both high-pressure impingement type mixing machines and low-pressure dynamic and static mix units for dispensing polyurethane foams and elastomers, introduces ParaDyne, their new compact, low-pressure inline mixer using disposable mix elements. Low pressure processing can now be accomplished with out the use of solvent flushing. The ParaDyne has a unique non-drip feature that minimizes mixed material dripping during the indexing sequence on production lines. This patent pending technology uses a simple method to pull the mixed material back in the mixer between shots without the use of complicated and ineffective mechanical snuff-back valves in each material line. This pull- or snuff-back action quickly decompresses the mixer chamber and holds the material inside the mixer until the mix head can be indexed to the next part. The rugged two-component mix head utilizes servo, hydraulic or air-driven motors. ParaDyne provides the best mix when set at 2,000 to 5,000 rpm's which can be verified by either servo or tach feedback methods. This compact mix head weighs just 17 pounds with a servo drive, which facilitates its use with motion control systems. Based in North Canton, Ohio, Liquid Control Corp. is a leader in the design and manufacture of meter, mix, and dispensing equipment for reactive resin systems. The company offers a complete line of precision dispensing equipment for single and multiple component applications. Operating units and their specialties include Dispensit®, precision dispensing; Decker Industries, Inc.®, polyurethane processing equipment; Profill Corp.(SM), contract resin packaging services and assembly; and LCC Automation Group, integration of the company's dispensing technologies for total process solutions. For small shots or thin beads of adhesives or encapsulants, Liquid Control Corp features their flagship product: the patented PosiDot® dispensing valve which features low volume positive displacement metering of resin and hardener components directly to disposable motionless Posimixers®.
More from Computer Hardware & Peripherals