Inline Hot Melt Labeler accelerates changeover with less parts.
Press Release Summary: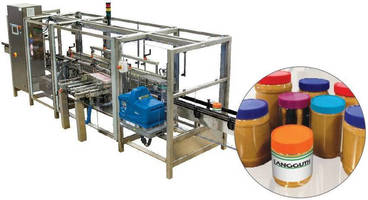 Designed to minimize requirements for operator intervention, hotLAN 310 can resume production quickly after container changes. Onboard adjustment screws and slides with digital dial indicators ensure positive and repeatable set points every changeover. Suited for rigid containers, system accommodates bar code inspection sensors for QC and data collection and supports outputs of up to 1,000 bpm to meet production speed requirements of most jar and can lines.
---
Original Press Release:
LANGGUTH's Inline Labeler with Drastically Reduced Change Parts: Results in More with Quicker Changeover
Kohler, WI:  LANGGUTH, the world's oldest manufacturer of high speed labelers, has introduced an inline hot melt labeler hotLAN 310 for rigid containers which reduces change parts consumption by nearly 50%.  With the new design requiring less operator intervention, the labeler gets back into production more quickly during container changes.  Additionally, the re-design accommodates bar code inspection sensors increasingly used for quality control and data collection. 

With the new hotLAN 310 design changeover is performed with reliance of onboard adjustment screws and slides with digital dial indicators ensuring positive and repeatable set points with every changeover.  Not only reducing investment in change parts, changeovers are achieved in less time, thus, getting the line up and running faster.  Such savings compound throughout the life of the labeler.  Moreover, with hotLAN 310 flexibility and changeover improvement, the labeler is a perfect fit to meet the needs of proliferating sku's.

In addition to fewer change parts, output has also increased to 1000 bpm. Thus, the re-designed hotLAN 310 meets the production speeds of most jar and can lines.  With speed gains, fewer purchased parts, and more production up time, the re-designed hotLAN 310 presents the industry with a new Total Cost of Ownership benchmark.

The flexible high speed hotLAN 310 offers customers best in class asset utilization.

About LANGGUTH:
LANGGUTH offers more than 85 years of experience providing high efficiency primary package labelers to diverse customers. Our hot melt, cold glue, and pressure sensitive labelers arranged in rotary and inline formats are recognized as best in class among producers of food, beverage, paint, and chemical.  LANGGUTH AMERICA Ltd delivers sales, service, parts, training, assembly, and engineering for customers throughout the Americas.

Web Link:
https://langguth-america.com/inline-and-rotary-labelers/hotlan-hot-melt-technologies/inline-labelers-hot-melt-hotlan-310/

Contact:
David O'Keefe
920.889.8595
www.langguth-america.com