Inkjet Printing System Controller enables on-floor editing.
Press Release Summary: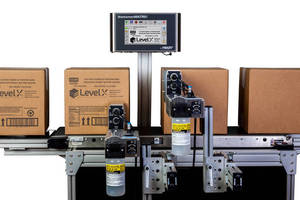 Able to control as many as 4 printheads on 2 production lines, Marksman Matrix features color 10 in. touchscreen and allows on-floor as well as main office editing of printed codes. System is also compatible with front-office editing via Windows® Remote Desktop. Screen size lets users view complete spatial relationships in 3D renderings, while graphics-driven, usability-optimized interface reduces operator error. Controller also offers compatibility with Trident printheads.
---
Original Press Release:

Innovative Marksman Matrix Inkjet Controller from Foxjet Combines Unique-In-The-Industry Features and Competitive Pricing



Technology provides enhanced functionality through on-floor editing and 3-D rendering capabilities



Saint Louis, MO – FoxJet (www.foxjet.com), an ITW company, announces the global launch of their innovative, new Marksman Matrix controller for inkjet printing systems. The Marksman Matrix provides several unique-in-the-industry features, including a 10 inch touch screen that allows on-floor (as well as main office) editing of printed codes and an error-reducing, user-friendly interface at a price point that is competitive with standard inkjet system controllers.



The new technology is ideally suited for use in systems that print alphanumerics, graphics and barcodes onto porous packaging substrates like corrugated boxes for a wide variety of food, beverage, personal care and medical applications.



10" Touch Screen for Enhanced Functionality

The color 10 inch touch screen featured on the Marksman Matrix provides enhanced functionality compared to traditional five to seven inch controller screens. Whereas traditional screens require front-office editing, the larger 10 inch size allows for quick, on-floor administrator editing of printed codes. The system is also compatible with front-office editing via Windows Remote Desktop. Additionally, the Marksman matrix can control as many as four printheads on two production lines.



Innovative User Interface

The graphics driven, intuitive user interface on the Marksman Matrix is driven by the highly flexible and feature-rich Windows environment. Unlike many controllers which feature an omnipresent key board that detracts from valuable screen space, the Marksman Matrix keyboard only appears when necessary. The keyboard can quickly be reprogrammed to a wide variety of languages and thanks to the larger screen size- the keyboard (and hence individual keys, font sizes, etc.) is significantly larger than traditional controller keyboards, reducing costly user error by as much as 25%. The bigger screen size also allows users to quickly view complete spatial relationships in 3-D renderings of their package for enhanced user ease.



High Performance

Hard drive storage on the Marksman Matrix is as much as six times greater than on traditional controller technologies, allowing for enhanced performance in a number of key areas. For example, the Marksman Matrix offers nearly limitless standard true type and Unicode fonts pre-installed, eliminating the need for time consuming and costly additions to meet evolving needs.



Superior Print Results and System Durability

Intelligent, streamlined design enhances the durability of the Marksman Matrix. The new system features as many as 20% fewer components as the 2011 Marksman Elite.



Durability is further enhanced by the systems´ compatibility with Trident printheads. Featuring unique-in-the-industry stainless steel construction, and patented repairable (rather than disposable) design, shock resistance capability and, automatic maintenance modules, the Trident-based ProSeries 384 and ProSeries 768 jet printheads provide industry-leading durability. Whereas traditional printheads might need to be replaced as often as every few months, Trident printheads can last as long as 10 years or 300 billion firings. Significant cost savings are also generated by the reduction in system maintenance downtime that these printheads provide.



The Marksman Matrix was first introduced at booth 3304 of PACK EXPO International (November 2-5, Chicago, IL).



About FoxJet

FoxJet, an Illinois Tool Works (ITW) company, has been a global leader in the production of coding and labeling equipment for the industrial market place for over 20 years. FoxJet is renowned for its high resolution case coding inkjet systems and state-of-the-art inkjet controllers that incorporate color touch screen technology with robust construction for use in rugged industrial environments.



For more information about FoxJet, visit us at www.foxjet.com or contact:



North America

Steve Liker

Large Character InkJet Product Manager

203-740-9333 x3037

steve@trident-itw.com



Brian McGovern

North American Sales & Aftermarket Distribution Manager

954-707-9474

bmcgovern@foxjet.com

More from Optics & Photonics