Ink Jet Marking System prints text, lines, and bar codes.
Press Release Summary: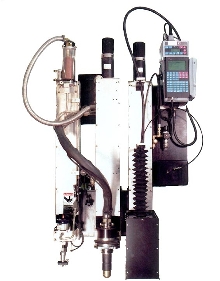 Jet Writer ink jet marker marks both metallic and non-metallic materials, smooth or not. Its indelible ink can be painted or welded over, does not affect finish quality or plate metallurgy, and dries in seconds. Printing is bi-directional for minimized indexing time. Motion control system produces consistent character width and line marks during acceleration and deceleration. It allows the marking at speeds up to 700 inches per minute.
---
Original Press Release:

ESAB Offers Waterjet and Ink Jet Marker Combination Machine


ESAB Offers Waterjet and Ink Jet Marker Combination Machine

Florenice, SC -- ESAB Cutting Systems announces that a new ink jet marking system is now available on its HydroCut waterjet cutting machines, as well as on its plasma, oxyfuel and other combination process machines. The Jet Writer ink jet marker is particularly useful when combined with waterjet cutting, because it markes both metallic and non-metallic materials, while writing on surfaces that are not completely smooth. This method is also particularly useful for metal-cutting applications where the metal should not be exposed to heat (as found with plasma and zinc marking) or deformation (as found with punch and scribe marking). In fact, inkjet marking shares many of waterjet's attributes.

Ink Jet marking is one of the few processes that accomplishes plate marking with no effect on the plate surface. The fast-drying, indelible ink can be easily painted or welded over and does not affect finish quality or piate metallurgy. The ink dries in seconds, allowing almost immediate immersion for underwater cutting.

Ink Jet prints characters without requiring the marking tool to draw each individual character. The ink jet head moves across the plate in a straight line at high speeds and prints the characters as it moves. Printing is bi-directional, so indexing time is minimized. ESAB has integrated the Jet Writer system with its motion control system to produce consistent character width and line marks even during machine acceleration and deceleration.

Jet Writer allows the marking of text, lines and bar code at speeds up to 700 inches per minute (18 meters per minute). It marks characters and bar code in a single high-speed pass, in either direction, without re-indexing the machine. The dual-jet printing head produces six different fonts in either 10 mm or 20 mm character height.

Because the ink jet printer head requires a clean and secure operating environment, ESAB has designed a unique protective housing with automatic height control and collision protection. When not marking, this housing protects the printer head from plasma arc spatter or from the splashing water and abrasive grit inherent to waterjet cutting. Air purging of the housing protects against moisture and dust.

As one unit, the Jet Writer system includes an Imaje ink jet printer, sealed high-speed linear motion vertical lifter, protective enclosure with air purge, automatic capacitive height control and crash protectiop. Different color inks are also available. This system is ideal for aluminum, stainless steel and primed plate and for high production environments such as shipyards and heavy manufacturing.

ESAB holds patents on technology combining numerous cutting and marking processes. In particular, ESAB's HydroCut waterjet cutting systems combine plasma cutting and various marking systems with its waterjet cutting heads.

ESAB's HydroCut series are gantry-style waterjet cutting systems, incorporating the rugged design and construction features associated with ESAB gantry technology, including a sturdy box-beam design; welded, stress-relieved components; and precision-machined contact surfaces for reliable operation. Planetary drives powered by AC brushless motors provide accurate motion and positioning, with exceptional accuracy up to ±.003 in.

The Hydrocut series feature up to eight waterjet cutting heads, rated for up to 60,000 psi (4,137 bars), with orifice sizes ranging from .003 to .022 in. and nozzle sizes from .020 to .065 in. (.518 to 1.65 mm) interior diameter. This flexibility allows HydroCut to handle everything from small, intricate cuts to thick cuts requiring higher abrasive and water flow rates. The orifice and long-life nozzle are designed to maintain a consistent tool center point for the cutting stream. ESAB's abrasive cutting nozzle provides maximum cutting speeds with reduced operating costs and extremely simple maintenance.

Full process and motion control are provided by ESAB's Vision CNC control. On the CNC, ESAB software for waterjet cutting includes features such as DXF conversion, a CAD drawing package, pump pressure setting, abrasive feed setting, multiple acceleration setting, programmed kerf offset, QD CAD software for cutting contours, a real-time cut path display, graphics-to-text editor, on-screen zoom, nesting, plate remnant storage and multi-tasking capabilities.

More from Controls & Controllers