Injection Molding Machine ranges from 67-596 U.S. tons.
Press Release Summary: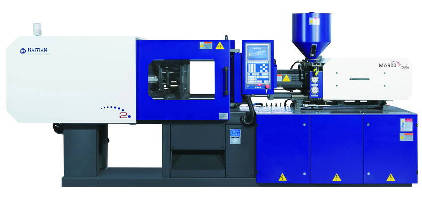 Featuring energy-saving Mars technology, Mars II Eco is U.S./UL safety compliant with 460 V power as standard. Servo-hydraulic injection molding machine is equipped with 2 air circuits for part ejection: one on stationary platen and one on movable platen. Additional air circuits are optional. System includes KEBA 1075 control and SPI robot interface as standard.
---
Original Press Release:
Haitian Mars Eco Now Available in the U.S. and Canada
Minneapolis, Minnesota,  – At PLASTEC Minneapolis Booth #931, Absolute Haitian, the exclusive distributor of Haitian and Zhafir injection molding machines in the U.S. and Canada, has announced the availability of an economic version of the Haitian Mars II servo-hydraulic injection molding machine to molders. The efficiently equipped Mars II Eco features the energy-saving Mars technology which is patented in China, yet offers an attractively priced alternative that supports the competitively priced production of standard parts.  The Mars II Eco is sold at around 50% below the cost of competitor machines in similar clamp force categories. It is available from 67 to 596 U.S. tons (MA II/e 600 to the MA II/e 5300).

"The Mars II Eco is attractive for customers who have price-sensitive projects that will benefit from lower capital equipment costs and who are more familiar and comfortable with servo-hydraulic machines," said Glenn Frohring, one of the owners of Absolute Haitian. "Previously available and proven in other worldwide markets, this version of the Mars meets U.S. and Canadian operational and safety standards."

The Mars II Eco injection molding machines began delivering to customer facilities in August and are available as stock machine inventory. The machine offers the standard features U.S. and Canadian molders require including: 
• U.S. / UL safety compliant with 460-volt power as standard
• KEBA 1075 control
• 2 air circuits for part ejection – one on the stationary platen and one on movable platen (additional air circuits are optional)
• 1 core pull circuit on the movable platen up to the Mars 4700e; 2 core pull circuits on 5300e
• SPI robot interface as standard
• Lower price point than other servo-hydraulic injection molding machines in the market

Absolute HAITIAN, based in Worcester, Massachusetts, is the exclusive sales and service partner in Canada and the U.S. for Ningbo Haitian Machinery Co., Ltd. based in Ningbo, China.  Ningbo Haitian Machinery Co., Ltd. is the world's largest supplier of plastics injection molding machinery, shipping in excess of 26,000 machines in 2015.  Haitian products are sold in more than 130 countries with machine sizes ranging from 44 to 7,425 U.S. tons of clamp force. More information is available by visiting the Absolute Haitian website at www.absolutehaitian.com   

CONTACT:
Patrice Aylward, Communications Consultant, +1 216/618-3174 or paylward@absolutehaitian.com
More from Software