Injection Molding Machine features 4,400 ton clamp force.
Press Release Summary: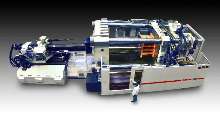 Metric Maxima 3900 has global, dual-platen design that occupies 18.5 x 54.8 ft footprint and offers optimized daylight area of 165.3 in. Unitized on injection and clamping base components, IMM design accommodates 2 injection units for co-injection or multi-material molding and utilizes single pancake cylinder for clamp tonnage. It features 607 oz. injection unit, 134 in. clamp stroke, 30 in./sec clamp speed, and 0.98 sec tonnage build.
---
Original Press Release:
CINCINNATI MILACRON Goes Big in Global Machine Design - New 39,000 kN Metric Maxima Two-Platen IMM is Big, Fast and Flexible
Maxima 3900, largest machine in new metric line, brings fast cycling to large jobs with 39,000 kN clamp force, 134" stroke, 30 in/sec. clamp speed, 0.98 second tonnage build March 17, 2004 - CINCINNATI MILACRON celebrates the return of its brand name to the market with a big milestone in the shipment of its first Maxima 3900, the largest standard model in a new big-machine line of metric two-platen injection molding machines. Ranging in size to 39,000 kN (4400 tons U.S.), the new large metric Maximas are co-engineered for high performance and superior application flexibility, while saving on energy use and space requirements. The top-of-the-range machine features a 607 oz. injection unit, 3403 mm (134") clamp stroke and maximum daylight of 4200 mm (165.3") - 4956 mm (195.1") without ejector system. Purchased for high-throughput production of large truck components, the Maxima 3900 delivers short cycle times with 762 mm/sec (30"/sec) clamp speed and 0.98 second tonnage build. True global designs, the large metric Maximas are co-engineered by CINCINNATI MILACRON, Batavia, Ohio, and Ferromatik Milacron Europe, Malterdingen, Germany, for regional build and sale around the world. The global designs give international molders sourcing flexibility on high-output machines of identical configuration to meet needs for multi-location process replication, noted Karlheinz Bourdon, Milacron vice president for machinery technologies. "The new metric Maximas utilize globally sourced parts," he stressed. "They use the same control and other key components, so the look and feel is identical, wherever the machine is sourced. This blending of the best global technology is just the start of an extensive technology migration that customers will see as Milacron brings the best practices in processing, engineering, manufacturing and service from any continent to all continents." The metric Maximas build tonnage with the moving platen, optimizing machine and application configurability, according to Ron Hertzer, chief engineer for CINCINNATI MILACRON. The new design readily accommodates two injection units for co-injection or multi-material molding, he stressed. In fact, the first Maxima of the new design was a 3000-ton (U.S.) co-injection machine, he noted. The large daylight capability accepts spin-stack molding applications, while deep draw parts can be produced on the standard machine (with removable ejector box). The new design reduces energy consumption with fast tonnage build, reduced oil requirements, and 100% use of PQ pumps. Milacron's innovation of a single pancake cylinder for clamp tonnage eliminates the four tie-rod cylinders for tonnage build of conventional two-platen machines, while reducing seals and plumbing, machine complexity and service/parts issues, pointed out Hertzer. Electric screw drive, available as an option, further minimizes electric consumption, he noted, while also reducing cycle time through overlap of screw and clamp functions. Two-platen design optimizes daylight area and application flexibility, while allowing for compact, space-saving machine structure. Low-profile design allows even the largest model, the Maxima 3900, to be located in plants with ceiling heights as low as 4267.2 mm (14 ft). Special attention was given to reducing width to 5638.8 mm (18.5 ft), said Hertzer, allowing the large IMM to fit within the stanchion spacing of most industrial buildings. The 4400-ton machine is unitized on just two base components, one for injection and one for clamping. The space-saving footprint - just 5.64 x 16.70 meters (18.5 x 54.8 ft) - is the smallest of any machine of comparable tonnage, he stated. Milacron has returned to the CINCINNATI MILACRON brand name for injection molding machines produced at the Batavia, Ohio plant. "Most of the our North American customers still refer to their machines as Cincinnatis," explained Bourdon. "The gravitational pull to bring the name back has been strong. CINCINNATI MILACRON was our original brand for plastics molding machines. With our new financing in place, the rebirth of the Cincinnati Milacron brand name is our way of marking this fresh start." Milacron will now have five injection molding machine brands, he said, with Cincinnati Milacron joining Ferromatik Milacron Europe, Milacron Fanuc, Autojectors and Ferromatik Milacron India. For more information on the new high-performance metric Maxima machine line, visit Milacron's web site at plastics.milacron.com. Sales inquiries from the NAFTA region should be directed to: Sherry Kinzie Milacron Marketing Company 4165 Halfacre Rd. Batavia, OH 45103 Tel: 513.536.2352 Fax: 513.536.2624 sherry_kinzie@milacron.com In Brasil, direct inquiries to: Mr. Hercules Piazzo Milacron Equipamentos Plasticos Ltda. Al. dos Jurupis, 452 - 6o Andar - Bloco A - Moema 04088-001 - São Paulo - SP - Brasil Tel.: (+5511) 5051-1838 - Ext. 107 Fax.: (+5511) 5055-1905 herculespiazzo@milacronbrasil.com.br In the Caribbean, Central and South America, direct inquiries to: Michael Ferlic Milacron Marketing Company 306 Poinciana Island Drive Sunny Isles FL 33160 USA Tel/Fax: 305-945-6707 michael_ferlic@milacron.com Sales inquiries in China contact - Milacron Representative Office Room 608, Nan Zheng Mansion 589 West Nan Jing Rd. Shanghai 200041 P.R. China Tel 86-21-5234-00013 Fax 86-21-6267-9113
More from Electrical Equipment & Systems