Initiating Devices function like fire alarm pull stations.
Press Release Summary: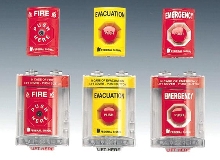 Push Button Stations provide contact closure to activate emergency equipment, audible and visual signals, and alarm panels. Red Emergency and Yellow Evacuation units have push-and-turn reset button. Red Fire units feature key lock reset button. Tamper-resistant polycarbonate cover prevents false alarms without restricting use in emergency situations and protects against physical damage. Piezo horn sounds when cover is lifted and is powered by 9 Vdc battery.
---
Original Press Release:

Initiating Devices That Cover a Wide Range of Industrial and Commercial Applications


UNIVERSITY PARK, IL - August 2002. Federal Signal Electrical Products Group presents a series of multi-purpose, initiating devices that cover a wide range of industrial and commercial applications. These Push Button Stations function like a traditional fire alarm "pull station," providing a simple contact closure to activate emergency equipment, audible and visual signals and alarm panels.

Three stations are available. Red "Emergency" and yellow "Evacuation" units have a push-and-turn reset button. Red "Fire" units feature a key lock reset button.

The tamper-resistant polycarbonate cover prevents false alarms without restricting use in emergency situations, protects against physical damage, and is suitable for use outdoors. A piezo horn sounds when the cover is lifted. Power to the piezo alarm is provided by a 9VDC battery (included).

For complete information about Push Button Stations, and to find out about the opportunity to have an on-site signaling systems evaluation, contact Federal Signal at 708-534-4756 or visit the website at www.federalsignal-indust.com.

More about Federal Signal Electrical Products Group

Federal Signal Electrical Products Group is a leading supplier of visual and audible signaling, warning equipment, and communications equipment. The company provides its customers with everything from warning lights, intercom systems, horns, bells and sirens, to controllers, audible warning systems and digital message devices. Federal Signal also offers complete facility-wide communication systems for both indoor and outdoor applications. With field application and engineering experience dating back decades, Federal Signal is capable of providing valuable assistance to the users of its products as they seek to design and specify equipment and systems into existing or new facilities.

2645 Federal Signal Drive o University Park. Illinois 60466-3195 o Phone: (708) 534-3400 o www.federalsignal-indust.com

More from Material Processing