Pyrometers and Infrared Thermometers
Infrared Thermometer handles harsh applications.
Press Release Summary: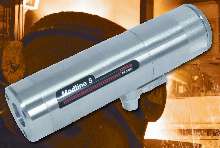 Stand-alone, non-contact Modline 5 features SS, NEMA 4-rated housing. Temperature range is 500-3,000°C and measurement wavelengths are 1.05 m/0.85-1.05 m, 0.85-1.1 m, and 1.5-1.6 m. Menu driven setup is accomplished via rear panel keypad with backlit display, or RS-485 from Digital Panel Meter or other RS-485 device. Total System Health Check automatically verifies that sensor is performing within factory specifications. Dirty Window Detector provides alarm if window needs to be cleaned.
---
Original Press Release:

Ircon Introduces Modline 5 Infrared Thermometer


For many years the "Modline" brand of non-contact thermometers has been well known by industrial manufacturers who use infrared temperature sensors. Now Ircon is proud to announce a new addition to the Modline family - the Modline 5 Infrared Thermometer.

The Modline 5 stand alone infrared thermometer was specifically developed to handle the harsh applications common in foundries, steel mills, furnaces, semiconductor, and other high temperature manufacturing environments. Its outer body uses a stainless steel, NEMA 4 rated housing to protect against corrosion and humidity. Wiring is handled with a high temperature cable and completely sealed electrical connectors to further improve reliability.

While the outside of the Modline 5 is built to provide long lasting performance in tough environments, the rest of the sensor contains many innovative features not found on most infrared thermometers. Complete menu driven setup of the Modline 5 can be accomplished through a rear panel keypad with backlit display or via RS-485 from the Ircon Digital Panel Meter or any other RS-485 device. An optional Dirty Window Detector (patent # 5812270) actually "senses" if dirt, water, or other contaminants are built up on the window of the sensor. The Dirty Window Detector can then provide an alarm notifying the operator that the window needs to be cleaned.

In continuous monitoring applications reliability is the key to preventing downtime in a manufacturing plant. Perhaps one of the most unique features of the Modline 5 Infrared Thermometer is its Total System Health Check capability. When powered up, the sensor can automatically verify that it is performing within factory specifications. The Total System Health Check reviews the infrared detector, electronics, and even the window of the sensor to see if they conform to Ircon standards. This feature ensures that the Modline 5 is not in question during start up or the troubleshooting a process.

The Modline 5 is available in temperature ranges from 500 - 3000°C (932 - 5432°F) and measurement wavelengths of 1.05m/0.85 -1.05m (ratio), 0.85 - 1.1m, and 1.5 - 1.6m. Besides the optional Dirty Window Detector and Digital Panel Meter, the Modline 5 is available with a complete line of accessories including air purge, water cooling jackets, and aiming lasers to let the user customize the sensor to their application.

For more information on the Modline 5 or any of the products in IRCON's product line contact IRCON, Inc., 7300 North Natchez Avenue, Niles, IL 60714; tel:1-800-323-7660 ext. 258; fax: 847-647-0948

More from Electrical Equipment & Systems