Infrared Photodiodes feature miniature custom housings.
Press Release Summary: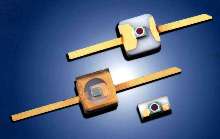 InGaAs Photodiodes offer active area sizes of 120, 300, 400, and 500 µm. IR-sensitive units have responsivity of 1310-1550 nm and operate in spectral range from 900-1700 nm. Model FCI-InGaAs XXX-CCER is mounted on gull wing ceramic substrates with glass windows. Model FCI-InGaAs XXX-WCER features monitor photodiodes mounted on metallized ceramic substrates. Angled surface of 5° on ceramic substrate of Model FCI-InGaAs-XXX-ACER reduces back reflection.
---
Original Press Release:

OSI Fibercomm Offers Custom Housings for Infrared Photoiodes


Hawthorne,-CA - January 10, 2003 - OSI Fibercomm, a subsidiary of OSI SYSTEMS (Nasdaq: OSIS), introduces four new, miniature packages for their InGaAs photodiodes for laser diode monitoring. With active area sizes of 120µm, 300µm, 400µm, and 500µm, these IR-sensitive photodiodes are ultra low-noise, have a high responsivity (1310nm - 1550 nm) and operates in a spectral range from 900nm to 1700nm. High performance, excellent frequency response time and miniature packaging size in these chips provide a valuable tool to the opto-electronics design engineer. The devices can also be packaged to accommodate custom micro-electronics. Applications include diode laser monitors, high-speed optical communications, Gigabit/Ethernet Fibre Channel, SONET/SDH, ATM, and instrumentation.

The FCI-InGaAs XXX-CCER is mounted on gull wing ceramic substrates with glass windows that can be customized with an AR coating. The LCER model also features gull wing ceramic substrates. The FCI-InGaAs XXX-WCER features monitor photodiodes mounted on metallized ceramic substrates. The compact assemblies on the WCER are designed for easy integration. A 5° angled surface on the ceramic substrate of Fibercomm's InGaAs-XXX-ACER greatly reduces the back reflection. All of these chips are mounted with low out gassing conductive epoxy with a tolerance of +/-25µm, but can also be eutectic mounted onto the ceramic substrates, upon request.

ABOUT THE COMPANY:
OSI Fibercomm, a wholly-owned subsidiary of OSI Systems, Inc., is a premier designer and manufacturer of compound semiconductor photodetector components and subsystems for the fiber optic marketplace. As a custom fiber optic component and subsystems provider, OSI Fibercomm is a next-generation designer of fiber optic solutions. Please visit osifibercomm.com for more information.

OSI Systems, Inc. is a diversified, global developer and distributor of optoelectronics for OEM manufacturing, the security, medical, and fiber optics markets. For additional information about OS Systems, Inc. and subsidiaries, please visit: www.osi-systems.com

More from Architectural & Civil Engineering Products