Infrared Camera measures temperatures up to 250°C.
Press Release Summary: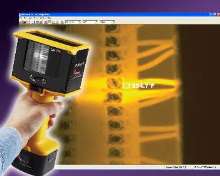 With thermal sensitivities of <0.10°C, IR-InSight T250 provides clear images even when background hotspots are present. Featuring 3.5 in. LCD display and yellow ABS housing, camera offers point-and-shoot, one-button operation. SightView image analysis and reporting software is included. Camera is suited for general predictive and preventive maintenance applications, as well as roofing and building inspections.
---
Original Press Release:
Low-Cost Infrared Camera Delivers Exceptional Image Quality and Accurate Temperature Measurement up to 250°C

Minneapolis, MN ­August 16, 2004­ Infrared Solutions, Inc. has announced a new IR-InSight camera model, the InSight T250. Constructed in a rugged "made for work" housing, the IR-InSight T250 delivers exceptional image quality and precision temperature measurement up to 250°C for just $10,995. Infrared Solutions' IR-InSight camera family now consists of three models including the IR-InSight thermal imager, the IR-InSight T100 model which delivers accurate temperature measurement up to 100°C, and the new IR-InSight T250 model. Each version is designed as an easy-to-use durable tool, ideal for general predictive and preventive maintenance applications as well as for roofing and building inspections.

Primary users of the IR-InSight T250 include electrical contractors, electric motor repair shops, rural electrical co-ops, restoration contractors, power and utility companies and general manufacturers. "Anyone with high-temperature requirements can easily realize the (IR-InSight) T250's value," said John Goodrich, President of Infrared Solutions. "The main adopters of the (IR-In-Sight) T250 product will be users who require durable, highly-ruggedized thermal imaging tools that deliver quality images and can handle the knocks and abuse of everyday work," said Goodrich. With intuitive software and a simple design, the IR-InSight T250 is exceptionally easy to operate and ideally suited for users with little or no thermography experience.

Thermal sensitivities of less than 0.10°C, considered exceptional by industry standards, enable the InSight T250 to provide crisp, clear images, even with "hot spots" in the background. Superb image quality coupled with the InSight T250's large 3.5" LCD display, provide a level of image quality normally found only in much more expensive infrared cameras.

The IR-InSight T250 offers point-and-shoot ease of use. One button operation makes it easy to capture accurate temperature measurements for PPM applications. Its rugged, "power tool" yellow ABS housing adds to the unit's overall durable appeal. SightView image analysis and reporting software is included with the camera at no extra charge.

Infrared Solutions is an industry leader in high quality, cost effective infrared imaging technology offering portable, affordable solutions for predictive maintenance, quality control, roofing, building construction, restoration, insulation, and electrical contracting. For further information, contact Infrared Solutions, Inc. 3550 Annapolis Lane North, Suite 70, Minneapolis, MN 55447 Email info@infraredsolutions.com PH: 763.551.0003 or 800.760.4523 FAX: 763.551.0038 www.infraredsolutions.com
More from Explosives, Armaments, and Weaponry