Infotainment Terminal serves multiple markets.
Press Release Summary: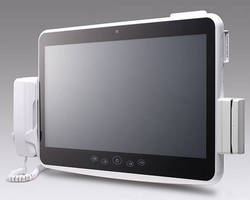 As all-in-one system, HIT-W181 serves multiple intelligent service and healthcare applications. This 18.5 in., 16:9 flat panel terminal is rated to IP65 and supports diverse options: 2.0 MP camera, WiFi, VOIP, barcode reader, RFID, NFC, MSR, touch panel, and fingerprint reader. Powered by Intel® Atom(TM) processor, fanless solution supports CFAST for high-speed storage, measures 4.8 cm thick, and
resistive touch or PCT multi-touch panel can be customized with programmable function keys.
---
Original Press Release:

HIT-W181 in Healthcare, HIT-W181 in iServices, Advantech's New Infotainment Terminal Serves Multiple Markets



Europe - Advantech announces the release of HIT-W181, an 18.5", 16:9 full-flat touch infotainment terminal. Combining the features of an all-in-one system, with a huge list of options such as a 2.0 megapixel camera, WiFi, VOIP, barcode reader, RFID, NFC, MSR, touch panel and fingerprint reader, the HIT-W181 serves multiple intelligent service applications (retail, sales, vending, self-service and kiosk) as well as healthcare applications (patient infotainment, medical information, diagnoses). HIT-W181 is IP65-rated for protection against water and spills; it supports CFAST, a CompactFlash solution that provides durable, high speed storage; it sports either a resistive touch or PCT multi-touch panel depending on the application environment; and it is medically-certified for hospital use. That's not all! The slim, fanless Intel® Atom(TM) processor-based system is fast, elegant and efficient. And it can be further customized with logos for a branded finish, tailored programmable function keys, and different colors to allow it to fit any décor. It also allows a choice of operating system, from Android and Linux, to Windows 7 and Windows 8. HIT-W181 is the perfect choice for a multitude of applications in both the Hospitality and Healthcare sectors.

Full-Flat Touchscreen Tempered for Durability Responds to the Touch of a Glove
HIT-W181 delivers HD quality output at an aspect ratio of 16:9 on its 18.5" full-flat touchscreen. One option, resistive touch, is both affordable and reliable for many iServices applications. Another option is a PCT touch panel, which suits environments where a harder, tempered glass surface is required. With a 7H hardness rating, the glass is safe from scratches, even from a knife blade, making it a great choice for outdoor or public-facing applications. In the Healthcare industry, there's even more good news. The PCT multi-touch screen is sensitive enough to respond to the touch of staff members wearing as many as three layers of gloves. The display can be quickly zoomed in on an X-ray image, and the doctor can maintain sterility by easily pulling a new glove on over an already gloved hand. The flat-panel design with its IP65-rating and EN-60950/EN-60601-1 medical certifications is easy to clean, and resilient to spills and mishaps.

End-to-End Connectivity and Optional Features Meet Application Needs
HIT-W181 is the key in linking up the "last mile service." That's to say, with it brilliant array of connectivity choices, it bridges the gap between the end-consumer and carefully sourced data. With a Smart phone and NFC connectivity, the WiFi-connected system can ID a shopper and present tailored advertisements. It also serves as a point-of-purchase, allowing applications like Google Wallet to complete transactions. Of course NFC is only one choice. HIT-W181 supports a magnetic stripe reader, RFID, a 1D/2D barcode scanner and a fingerprint reader. It can be used in healthcare applications for positive patient/staff identification, medication inventory and control, and in patient infotainment for credit card authorization of pay-per-view movies, internet access or with a handset attached, VOIP calls. The 2.0 Megapixel camera even allows video calls.

CFAST Storage at Hard Disk Speeds
CFAST is a CompactFlash technology that provides a SATA 3 GB/s storage medium for HIT-W181. This is especially attractive if the system is in a place where shocks or knocks might damage a traditional hard disk. The CFAST card is secure from theft/tampering behind a coverplate in the back of the unit.

Slim and Lightweight, Cost-effective Mounting that's Easy to Stow
HIT-W181 is 4.8 cm slim and weighs in at 5.9 kg. The sleekness of the system allows it to be placed on cost-effective VESA swing-arm mounts, and when it's not in use it can be stowed against a wall quickly and effortlessly. The fanless design of the system allows it to operate quietly, an important feature in places like a patient room.

Customized Look and Unique Branding
HIT-W181 is further customizable for branding purposes or specific programming applications. Logo and programmable buttons can be customized as can color options. HIT-W181 can fit into a variety of interior designs. Programmable buttons which are available in a 5-key or 9-key layout fit completely flush into the full-flat touch panel. HIT-W181 supports Windows 7, Windows 8, Fedora and Ubuntu Linux, and Android. For customers that need even more processing power, the HIT-W182, running on an Intel® Core(TM) i7 processor is coming soon.

The HIT-W181 is available now. For more information please contact a sales partner, or visit www.advantech.eu.

About Advantech
Founded in 1983, Advantech is a leader in providing trusted, innovative products, services, and solutions. Advantech offers comprehensive system integration, hardware, software, customer-centric design services, embedded systems, automation products, and global logistics support. We cooperate closely with our partners to help provide complete solutions for a wide array of applications across a diverse range of industries. Our mission is to enable an intelligent planet with Automation and Embedded Computing products and solutions that empower the development of smarter working and living. With Advantech, there is no limit to the applications and innovations our products make possible. (Corporate Website: www.advantech.eu)

More from Mechanical Power Transmission