Inflatable Packaging is completely reusable.
Press Release Summary: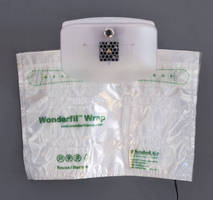 Consisting of wall-mountable, automatic inflator for polyethylene wraps, Wonderfil™ Wrap void fill packaging does not require any onsite heat sealing or cutting. System inflates polyethylene Wonderfil™ Wrap material sheet and stops once it is inflated. After inflated wrap is removed by operator, next wrap in cartridge automatically inflates. Valve feature lets users deflate packaging after use, enabling re-inflation at later time for reuse in additional shipments.
---
Original Press Release:

Sealed Air Introduces a Wonderfil(TM) Reusable Packaging Solution



New Inflatable Void Fill Solution is Compact, Versatile & Completely Reusable



ELMWOOD PARK, N.J. – Sealed Air today announced the launch of the Wonderfil™Wrap packaging solution, a completely reusable and inflatable void fill packaging solution designed to serve the needs of small to medium volume operations with limited available space.



The Wonderfil™ Wrap system consists of a wall-mountable automatic inflator, which inflates polyethylene wraps. The unique valve feature on Wonderfil™Wraps allows users to deflate the packaging after use, so it can later be re-inflated and reused for additional shipments. The space-saving design and simple loading and operation make the Wonderfil™ Wrap system an ideal solution for offices, home-based businesses, industrial operations and shipping operations with one or multiple pack stations.



"The Wonderfil™ Wrap system is smaller and more compact than most inflatable void fill packaging systems," said Dave Weiss, Marketing Manager, Sealed Air. "The uniquely small footprint of the Wonderfil™ Wrap system allows customers of all sizes to utilize our on-demand, inflatable packaging solutions to protect items from damage during shipping. This, in addition to the reusability of Wonderfil™ Wrap packaging, aligns with Sealed Air's SmartLife™approach to sustainability, which includes a focus on reducing waste by preventing product damage."



The Wonderfil™ Wrap system works by inflating an entire sheet of polyethylene Wonderfil™Wrap material with the unit's inflator fan, which automatically stops once the sheet is inflated. After the inflated wrap is removed by the operator, the next wrap in the cartridge automatically inflates. The system requires no heat sealing or cutting onsite.



For more information about the Wonderfil™ Wrap automatic inflatable void fill packaging system, call 1-800-634-1226 or visit www.wonderfilwrap.com.



About Sealed Air

Sealed Air is a global leader in food safety and security, facility hygiene and product protection. With widely recognized and inventive brands such as Bubble Wrap® brand cushioning, Cryovac® brand food packaging solutions and Diversey™ brand cleaning and hygiene solutions, Sealed Air offers efficient and sustainable solutions that create business value for customers, enhance the quality of life for consumers and provide a cleaner and healthier environment for future generations. Sealed Air generated revenue of approximately $7.6 billion in 2012, and has approximately 25,000 employees who serve customers in 175 countries. To learn more, visit www.sealedair.com.



Patrick Smith

Senior Account Supervisor

MSL Atlanta

a: 1170 Peachtree Street NE, Suite 1600, Atlanta, GA 30309

o: 404.870.6807 | f: 404.892.1274 | m: 404.375.8271

e: patrick.smith@mslgroup.com

w: mslgroup.com

Related