Inert Explosion-Proof Conveying System Safely Transfers Solids in Hazardous Installations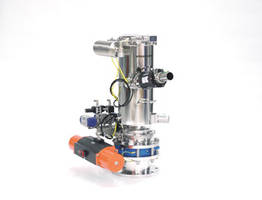 ATEX-Certified INEX-PPC from Volkmann Conveys in Gas, Dust Zones
Bristol, PA: The Volkmann INEX-PPC pneumatic vacuum conveying system from process equipment manufacturer Volkmann USA, Bristol, PA (https://www.volkmannusa.com/), features a patented approach that allows powders and other bulk materials to be safely conveyed in hazardous environments without concern for explosions. Explosion-proof by design, the INEX-PPC vacuum conveying system introduces nitrogen or other inert gas to create an inert atmosphere within the vacuum receiver for safe transfer into ATEX Zone 0 areas where an explosive mixture is present continuously or for long periods of time.
Devised to safely transfer chemicals, pharmaceuticals, and other materials, the Volkmann INEX-PPC is a proven solution for conveying dry or semi-wet materials from storage into reactors, mixers, or other vessels located in ATEX environments. The sealed, enclosed system includes stainless steel construction with a polished interior and minimal connections for safe, smooth gas purging and fast disassembly without tools for easy cleaning.
The INEX pneumatic vacuum conveyor comes complete and ready for operation with vacuum generator, air filter, separator tank, filter/receiver, discharge system, feeding hose/tubing, and control system. The inert vacuum conveying system may be tested in full size in the company's Bristol, PA test facility to simulate actual operating conditions.
For more information, contact Volkmann USA, 1900 Frost Road Suite 102, Bristol, PA 19007; 609.265.0101; [email protected]; www.Volkmannusa.com.
Media Contact:
Dave Nichols
+1-609-265-0101
[email protected]