Industrial Wheel/Caster has independently rotating wheels.
Press Release Summary: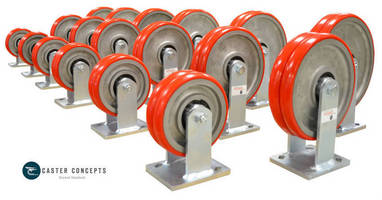 TWERGO™ wheel (Multiple Wheel Ergonomic) features split aluminum wheels with tread design minimizing friction and eliminating scrubbing and sliding when turning. Multiple wheel design includes spanner and wheel hub with aluminum die-cast cores for maximum strength. All wheels rotate independently of each other, while casters are maintenance-free. Suitable for production racks and parts bins, units are available in 6-12 inch diameters and 2-3 inch widths, with dual- and triple-wheel options.
---
Original Press Release:

Industrial Wheel & Caster Innovation



Albion, MI – Caster Concepts has developed an exciting new motion solution – the TWERGO™ wheel (Multiple Wheel Ergonomic). Designed for a wide variety of industrial applications, casters that utilize TWERGO wheels provide easier movement of loaded carts or vehicles. The TWERGO wheel and caster is a new concept that embodies all the necessities required of an industrial caster.



TWERGO's unique tread minimizes friction and eliminates scrubbing and sliding when turning, while providing the impact resistance of normal wheels. The ease of moving a cart, equipped with industrial casters, in motion is affected by many different aspects of the caster design. The multiple wheel design is anchored by a robust spanner that improves on existing wheel designs, and the wheel hub features aluminum die-cast cores for maximum strength.



All wheels rotate independently of each other. These casters have a very long tread life and are maintenance free.



TWERGO casters and wheels are excellent for production racks (power transported, manually handled and mobile fixtures); parts bins, and other applications where maintenance free casters and ergonomics are concerns.



For further information and a custom beyond standard solution please call 517-629-8838, or email sales@casterconcepts.com



Caster Concepts, Inc. 

16000 E. Michigan Ave. 

Albion, MI 49224 

517-629-8838 

www.CasterConcepts.com



Patented Wheel Design. Spilt aluminum wheels with a carved out core allow for thinner treads and improved ergonomics as a result of uniform compression.



TWERGO's are available in 6-12 inch diameters and 2-3 inch widths with dual and triple wheel options and a variety of wheel materials.



TWERGO – Ergonomic Casters



Media Contact:

David Parham

dparham@casterconcepts.com

517-680-7938



More from Controls & Controllers