Industrial Vending Equipment features color touchscreen.
Press Release Summary: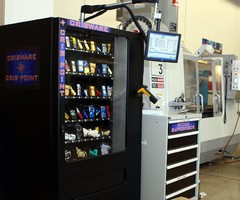 Along with barcode scanner that guides operator through vending activities, CRIBPOINT includes vend validation technology that optically monitors dispenses, ensuring proper item drop. Touchscreen monitor is mounted on flexible arm to allow user to position screen for access during machine setup, item issue/return, and restocking. Self Serve screens provide item selection and search, employee usage control, restock/refill activities, and automated reporting.
---
Original Press Release:

Applied CIM Technologies Announces CRIBPOINT, the Next Generation of Industrial Vending Solutions



Minneapolis, MN - November 2, 2007 - Applied CIM Technologies, Inc. announces CRIBPOINT vending, the next generation of industrial vending solutions. CRIBPOINT features a color touchscreen, an integrated bar code scanner, vend validation technology and an enhanced interactive screen presentation. The touchscreen monitor, mounted on a flexible arm, allows users to position the screen for easy access during machine setup, item issue and return, restocking and other vending operations. The integrated bar code scanner simplifies the CRIBPOINT workflow by guiding the operator through vending activities. Vend validation technology optically monitors dispenses ensuring proper item drop. Inside the machine, a secure slot and receptacle bin equips the machine with a convenient place for item returns, regrinds, and recycling.

The redesigned CRIBWARE Self Serve screens provide several functions not commonly found with traditional vending machines, including touch screen item selection, item search, employee usage control, restock/refill activities and automated reporting. The intuitive Self Serve check out screen provides item selection by product/helix selection, bar coded part number, or list searches. Usage limits restrict an employees' access to certain items or the quantity of an item during a specified period. This control measure limits over consumption and helps identify downstream process problems. CRIBPOINT replenishment is performed via restock report creation, inventory transfer or automated purchase order receiving. Automated report generation distributes usage traceability, inventory monitoring, and replenishment monitoring information, thereby increasing enterprise and vendor activity visibility.

CRIBPOINT vending is flexible and scaleable. Utilize CRIBPOINT vending as a standalone solution or integrate it seamlessly with any existing CRIBWARE system. Combine CRIBPOINT vending with CRIBPOINT lockers and CRIBWARE Stock Supervisor cabinets for a robust, secure storage solution of items large and small, returnable and perishable. Review reports, create purchase orders, monitor real-time inventory levels and easily transfer inventory from a central tool crib or storeroom to the CRIBPOINT machine at any time.

"The CRIBPOINT release is a continuation of our dedication to provide state-of-the-art tool and crib management systems", said Doug Schober, Vice President of Applied CIM Technologies, Inc. "Our customers requested the next generation of vending technology while maintaining our history of integrated CRIBWARE solutions, at reasonable prices. CRIBPOINT Vending provides form and function not available with traditional industrial vending machines. We believe CRIBPOINT vending delivers our customer's expectations."

About Applied CIM Technologies, Inc

Applied CIM Technologies, Inc. is a developer and supplier of integrated systems for manufacturing and industrial distribution. Our systems reduce indirect material usage through accountability tracking, minimized stock outs while insuring availability of tooling, critical material and safety items. Our customers optimize on-hand material usage, and increase efficient management overview of the engineering process. For over 20 years, CRIBWARE solutions have maximized tooling and crib efficiencies by tracking material usage, maintaining inventory control, dispensing tooling and supplies, and automating the replenishment process. For more information, telephone 763-476-4268, or visit the company's web site at www.cribware.com.

Contact:

Ashley Sibell
E-mail: marketing@appcim.com
Web: www.cribware.com
Phone: 763-476-4268

More from Sensors, Monitors & Transducers