Industrial Vacuum Aids Flood Clean-up by Collecting 26 Gallons of Water Per Minute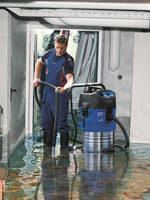 When communities are recovering from devastating floods such as the recent 35 trillion gallon rainfall in Texas, municipalities turn to Nilfisk Industrial Vacuums to aid in the clean-up. The Nilfisk ATTIX 19 AE Flood Sucker can collect and automatically discharge 26 gallons of water in one minute. This means that users don't have to keep manually dumping the vacuum canister, speeding up the clean-up process. You can watch a video here:

https://www.youtube.com/watch?v=GSxpINNLSGo



The ATTIX 19 AE leaves behind a completely dry surface, here other sump pumps can leave up to 1.5 inches of liquid on the ground. It can operate in three different modes – vacuum only, pump only, or vacuum and pump. The ATTIX 19 AE can separate solids into a stainless steel basket inside the canister while liquids are simultaneously discharged through a standard 1.5-inch fire hose. The discharge pump is able to send water up to 30 feet vertically and 150 feet horizontally.



In addition to flood restoration, the ATTIX 19 AE is used for building remediation, industrial wet pick-up and abatement operations.



More from Communication Systems & Equipment