Industrial Touch Panel PCs offer customization options.
Press Release Summary: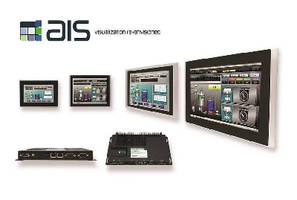 Suited for OEMs and end-users in discrete and process industries, Compact Series HMI Panel PCs are available with single resistive and/or multi-touch projected capacitive displays ranging from 7–21.5 in. Power over Ethernet protects devices from power failures, while built-in UPS protects HMI/SCADA/MES systems from unexpected harmful power disruption that could cause loss of important data. By utilizing SSD and fanless cooling, systems eliminate all moving parts for optimum reliability.
---
Original Press Release:

AIS Releases a Complete Panel PC Solution Including Projected Capacitive Touch, Resistive Touch, Power over Ethernet, Wireless, Battery Backup Power, Fanless Cooling and Sleek System Design



AIS's Cost-effective Panel PCs Offer a Wide Range of Customization Options Including Touch Screens, Power Supplies, and Operating Systems for Industrial HMI Applications



IRVINE, CALIFORNIA –  American Industrial Systems, Inc. (AIS) an innovator and the leader of Industrial HMIs, Touch Panel Computers, Industrial PCs (IPCs), Industrial Box PCs, Industrial DIN-Rail PCs, and Industrial Thin Clients, releases a comprehensive Industrial Touch panel PC solution for OEMs and end-user customers in discrete and process industries. The complete Industrial HMI solution includes their AIS's cost-effective Compact Touch Panel HMIs which offer Resistive and Projected Capacitive Touch (PCT) screens in single and multiple touch, Power over Ethernet (PoE), battery-up or UPS, fan-less cooling and much more.



The cost-effective Compact HMI Panel PC system from AIS is designed to provide a broad range of customization options as users' specifications and requirements continue to be more specific and exacting to suit their unique applications. The Compact Series capabilities are ideal for a wide variety of industries and markets including simple OEM discrete machinery to more challenging, SCADA driven process applications, such as chemical, food & beverage, packaging, pharmaceutical, power generation, water/waste water and others. The integrated HMI solution is also based upon AIS's popular flexible, scalable and powerful open architecture IPC design. Key features of the integrated, industrial Compact Series of HMIs from AIS include:

• Wide Selection of Resistive and Projected Capacitive Touch Screen Panels: The Compact line offers 7", 10.1", 12.1", 15", 17", 18.5" and 21.5" displays available in both single (resistive) and/or multi-touch (projected capacitive) screens.

• PoE HMI Systems: PoE systems offer high reliability, convenience, low cost and increased safety. PoE is a safe power solution and protects devices from power failures. Convenience:  they deliver faster deployment of factory floor access networking infrastructures by eliminating the need for a power outlet for every HMI device. Time & Cost savings: With AIS's PoE HMIs only one cable is required for both data and power to industrial devices is most cost effective, for both initial installation, service and maintenance.

• Automatic Battery Backup Power Module: An integrated, automation battery backup UPS from AIS provides a cost-effective technology and data protection feature for mission-critical automation and control applications. AIS's Compact Panel PC with built-in uninterruptible power source protects HMI/SCADA/MES systems from unexpected harmful power disruption that could cause serious business disruption and/or important loss of data.

• X86 Operating System Software and n-House Services: The Compact HMI Touch Panel from AIS supports embedded x86 platform, x86-optimized operating systems and development; Windows Embedded Compact 7, Windows Standard 7 Embedded or Ultimate 64-bit, Windows Embedded 8.1 Industry, 8.1 Pro or 8 Standard. As an added value, AIS offers in-house complete software design, coding, testing, documentation services, system drivers, BIOS, and embedded firmware software design for customers.



AIS Offers a Wide Variety of Standard System Components that Are Combined to Create Individualized Compact HMI Solutions & Other IPC Options

Customer requirements vary greatly and are based on a variety of factors including specific industry, environmental and/or custom application specifications. AIS's tailor-made, cost-effective Compact HMI solution fits customers' exact system requirements at an affordable price. Customizable components and options include: a variety of processors available for customized performance; memory and media selection; display and touchscreen technologies, sizes and resolution; addition modules and interfaces; device drivers; selectable operating systems; preinstalled customizes software packages; front-plate design in color and labeling interfaces and additional functionality.



Compact, Rugged and Maintenance-Free Touchscreen Solution with Solid State Drive (SSD) Drive and Fan-Less Cooling for Higher Reliability

AIS's cost-effective Compact HMI have a robust and intelligent design that eliminates all moving parts by utilizing a SSD and fan-less solution for cooling the system.  Eliminating components that may cause early system failure or over-heating, means higher system reliability, higher system performance and a reduction of planned and unplanned downtime for greater OEE. The sleek and compact design of the Compact IPC Panel PC includes completely flush aluminum fronts with NEMA 4/IP65 rating and lightweight aluminum die-cast system housing to resist high temperature, vibration, shock and EMC and provide rugged use.



Fully Integrated, Compact Touch Panel HMI for OEM Machinery Meets Key Industry Certifications and Requirements

The Compact, industrial panel PC from AIS also meets key certifications and compliance necessary for many industries and applications including: UL listing, CE marketing and CB scheme, RoHS, FCC and CE. Loaded with an Intel Celeron N2930 processor, the Compact line uses an all-aluminum die-cast housing which provides lower costs, a lighter weight frame, high dimensional stability, superior corrosion resistance, improved mechanical properties and high thermal and electrical conductivity. Due to its extensive versatility, features and performance, the Compact Series of Industrial Touchscreens are specified for industrial machinery, intelligent web-based, SCADA, MES, Industrial IoT and Smart HMI applications.



About AIS

Headquartered in Irvine, California, USA, American Industrial Systems, Inc. (AIS) offers in-house electronic and mechanical design, software development, manufacturing, production and quality control services. Offering one of the widest ranges of industrial computing solutions, AIS open platform control and monitoring solutions are available in a multitude of configurations for industrial, building automation, oil & gas, military and marine applications. The company's HMI solutions are key enabling technologies for the Internet of Things (IoT), Industrial Internet of Things, (IIoT), Machine-to-Machine Communications (M2M) and Industry 4.0 applications. AIS is fully committed to empowering, improving and delivering turnkey HMI, control, monitoring and display solutions for OEM, ODM and end-user customers. AIS is an ISO 9001:2008 certified supplier and manufacturer of rugged computers and displays, and received completion of the International Traffic in Arms Regulations (ITAR) registration from the Directorate of Defense Trade Controls (DDTC). For more information, visit: www.aispro.com, email: sales@aispro.com or contact: 1-888-485-6688.



Media Relations Contact:

American Industrial Systems, Inc.

David G. Martorana

Director Marketing & Communications

1.847.630.6487 or dynmarent@gmail.com

More from Test & Measurement