Industrial Single Board Computer features 64-bit PCI bus.
Press Release Summary: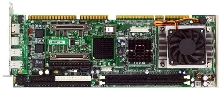 Suited for limited space applications, PCA-6189 supports Intel Socket 479 Pentium M (2.1 GHz) and Celeron M (1.5 GHz) processors. It is designed with Intel 855GME chipset and 6300ESB I/O controller hub and supports 2 Mb L2 cache (Pentium M). Along with 64-bit PCI-X, and 400 MHz FSB, SBC features on-board VGA, DVI, and LVDS connector for dual display support. It also supports 2 Gb single channel DDR 333/266/200 SDRAM interface and error correcting code.
---
Original Press Release:

Advantech Releases High-Performance, Low-Power Industrial Full-Sized Single Board PCA-6189 with 64-bit PCI Bus


Cincinnati, Ohio (March 24, 2005) - Advantech Corporation, Industrial Automation Group is pleased to announce the launch of the PCA-6189 Pentium® M full-sized single board computer, the first Intel® Pentium M/Celeron® M processor-based industrial full-sized single board series with 64-bit PCI-X.

Featuring high-performance and low-power as well as advanced I/O technology, the PCA-6189 supports the Pentium M/Celeron M processor with a front side buss running at 400 MHz. It is equipped with an on board VGA, DVI and LVDS connector to support dual displays. With enhanced features and single board computer architecture, PCA-6189 is the ideal solution for a system in a harsh environment or in a setup with limited space, but in need high computing power.

Designed to deliver high performance with excellent power consumption savings in industrial computing applications, the PCA-6189 supports Intel's Socket 479 Pentium M and Celeron M processors up to 2.1/1.5 GHz. The PCA-6189 is designed with the Intel 855GME chipset and the Intel 6300ESB I/O Controller Hub, and supports a 2 GB single channel DDR 333/266/200 SDRAM interface and Error Correcting Code (ECC) to improve reliability and data integrity. In addition, the PCA-6189 supports a 2 MB L2 cache (Pentium M CPU), which significantly increases processing performance. With the onboard LVDS connector and VGA/DVI port design, the PCA-6189 provides the exclusive dual VGA display feature, which makes this full-sized CPU card especially fitting for ATM or commercial printer applications.

The PCA-6189 has a list price starting at $590 (price varies due to configuration). It is available for purchase directly from Advantech or from one of Advantech's North American distributors at eAutomationPro.com.

Advantech Corporation, Industrial Automation Group - Founded in 1983, the Industrial Automation Group of Advantech Corporation is the only complete PC-based Industrial Automation Solution Manufacturer offering products such as Industrial PCs, Workstations, Panel PCs, Flat Panel Monitors, Heavy Environmental PCs, Customized PCs, Single Board Computers, Data Acquisition & Control Devices and Web-enabled products for a wide array of industries. Drawing on the talents of more than 1,800 people, Advantech operates an extensive sales and marketing network in 16 countries and 35 major cities to deliver fast time-to-market services to our worldwide customers. Today Advantech offers over 700 products and solutions, adding 30 new products each year. US operations for the Industrial Automation Group are based in Cincinnati, OH (877-294-8989). Address: 1320 Kemper Meadow Drive, Suite 500, Cincinnati, Ohio 45240.

Web: eAutomationPro.com. Email: info@eAutomationPro.com

Brandon Rhoten
Advantech Corporation, Industrial Automation Group
(513) 742-8895 x333
website: eAutomationPro.com

More from Software