Industrial Robot offers 1,000 kg payload.
Press Release Summary: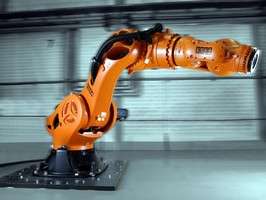 Featuring steel frame and 9 motors, KR 1000 Titan provides 4,000 mm reach, making it suited for handling heavy, large, or bulky workpieces in building materials, automotive, and foundry industries. In axes 1 and 3, two motors feed into single gear unit. Axis 2 is also powered by 2 motors, each with its own gear unit. With work envelope of 78 cubic meters, modular robot is able to withstand 60,000 Nm of static torque.
---
Original Press Release:

KUKA Robotics Corporation Introduces the KR 1000 Titan



World's first industrial robot with 1000 kg payload and 4000 mm reach
introduced to North America at Cast Expo 2008

Clinton Township, Mich., May 9, 2008 - KUKA Robotics Corporation is unveiling the KUKA 1000 Titan to the North American market at the upcoming Cast Expo 2008 from May 17-20 in Atlanta, Ga. in booth #2251.

The KUKA KR 1000 Titan is the company's latest product and with its heavyweight capabilities has earned an entry in the Guinness Book of Records. The KR 1000 titan is the world's first industrial robot that can lift a payload of 1000 kilograms with a reach of 4000 mm.

"KUKA developed this product based on understanding its customers' requirements and responding to market needs," said Stu Shepherd, president KUKA Robotics Corporation. "By understanding future market needs, KUKA can develop working ideas that break all the records. The Titan can handle the heaviest of payloads over the greatest of distances with unrivaled flexibility."

With the KR 1000 titan, the company has succeeded in producing not only a heavyweight champion, but also a technology powerhouse combining payload, reach and precision thanks to an innovative drive concept. The KR 1000 Titan opens up many new fields of application for this new automation solution - wherever power, reach and precision are required.

KUKA Titan - the heavyweight champion
Yet it is not only the giant's strength that is impressive. The physical attributes of the KR 1000 bring about clear advantages that are simply not possible with alternative machines. The Titan is a series-manufactured machine, which makes it a far more cost-effective solution than conventional systems. In addition, there is no comparable product on the industrial robot market in terms of payload capacity, reach and handling flexibility.

KUKA, one of the world's leading providers of industrial robots, came up with this unique development in response to customer requests. They wanted a new robot type that is ideally suited to the handling of heavy, large or bulky workpieces. The heavyweight champion was developed for sectors such as the building materials, automotive and foundry industries.

KUKA developed the Titan after over a year of research, programming and testing, which means one of the leading manufacturers of industrial robots reacted quickly to customers' wishes for a new robot model suitable for lifting large, heavy or bulky components.

For example, the Titan is capable of moving whole car bodies entirely unaided. Prior to the Titan, this was only possible using at least two robots - or by using complex special kinematic systems for heavy loads. In the building materials sector it can lift concrete staircase segments, taking the place of a crane that is much heavier than the Titan.

In addition, the Titan can handle large castings or meter-thick panes of glass. The robot is strong and robust, without compromising on precision or accuracy. At full stretch, it reaches a height of over four meters. Next to this giant, its predecessor the KR 500 - a powerful lifter in its own right - appears almost small and delicate.

Nine drive units with the power of a mid-sized car
Nine motors are installed, which together deliver the power of a mid-sized car. As a result, its design called not only for a robust steel base frame but also for a completely new drive concept. In axes 1 and 3, two motors feed into a single gear unit. Axis 2 is also powered by two motors, each with its own gear unit. The KUKA Titan can also withstand a static torque of 60,000 Newton meters (Nm), which is all the more remarkable if you consider that a powerful car has a maximum drive torque of only 600 Nm (just one percent of the power of the Titan). Its work envelope of 78 cubic meters puts its fellow robots in the shade.

KUKA look & feel
For all the record-breaking new features, KUKA remained true to its principles with regard to the look & feel of the robot, offering all the regular advantages of the KUKA family - from the wrist right down to the control concept. From its modular construction to programming and intuitive control, the KR 1000 has all the standard features. With its user-friendly design, the Titan has an excellent weight-to-payload ratio of less than 5. The KR 1000 can thus be transported in a standard container and can be installed in any industrial production shop thanks to corresponding mounting plates.

KUKA Robotics Corporation
KUKA Robotics Corporation, with its parent company KUKA Roboter GmbH, Augsburg, Germany, is one of the world's leading manufacturers of industrial robots, with an installed base of over 75,000 units. The company's robots range from 5kg to 1000kg payloads, and 635mm to 4000mm reach, all controlled from a common PC based controller platform. KUKA robots are utilized in a diverse range of industries including the appliance, automotive, aerospace, consumer goods, logistics, food, pharmaceutical, medical, foundry and plastics industries and in multiple applications including material handling, machine loading, assembly, packaging, palletizing, welding, bending, joining, and surface finishing.

For more information contact KUKA Robotics at 866-873-5852 or visit their website at www.kukarobotics.com.

About the KUKA Robot Group
KUKA Roboter GmbH, Augsburg, is a member of the IWKA Aktiengesellschaft Group and ranks among the world's leading suppliers of industrial robots. Core competencies are the development, production and sale of industrial robots, controllers, software and linear units. The company is the market leader in Germany and Europe, and the number three in the world. The KUKA Robot Group employs about 1,850 people worldwide. Of these, 1,200 are employed in Germany, either at the KUKA Robot Group headquarters in Augsburg, or at various subsidiaries. In 2006, sales totaled 375 million euro. Over 20 subsidiaries provide a presence in the rest of Europe, the US and Asia.

Contact:
KUKA Robotics Corporation,
Janine Krasicky (J9 Media Solutions)
248.542.3991 or Janine@j9media.com

More from Software