Industrial Motherboards come in ATX and Micro-ATX form factors.
Press Release Summary: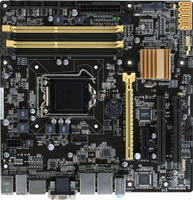 Along with choice of 4th Generation Intel® Core™ i-Series processors and Intel Q87 Express chipset, IMBA-Q87A (ATX) and IMBM-Q87A (micro-ATX) support up to 32 GB via 4 DDR3 DIMMs and up to 3 independent displays through various interfaces. Hardware decoder and Intel® Clear Video HD technology optimize performance. Each motherboard can process high-resolution videos, live broadcasts, and digital content and feature diverse range of I/O and expansion options.
---
Original Press Release:

AAEON Announces New Series Industrial ATX and Micro-ATX Motherboards with 4th Generation Intel® Core(TM) i-Series Processors



Superb Graphic Performance Derived from Q87 Chipset Enable the High Availability of IMBA-Q87A and IMBM-Q87A for Industrial Automation and Digital Signage



Taipei, Taiwan — AAEON, a major developer of industrial computing solutions, today announces the new series industrial motherboard IMBA-Q87A and IMBM-Q87A with 4th Generation Intel® Core™ i-Series Processors. The new IMBA-Q87A and IMBM-Q87A industrial motherboards are ATX and micro-ATX form factor respectively, featuring high graphic performance Q87 PCH chipset.



The new series industrial motherboards boast superb graphic performance with hardware decoder and Intel® Clear Video HD technology. It's capable of processing high resolution videos, live broadcasts and digital content, allowing them to be distributed and displayed on high-performance end devices such as digital signage, medical displays and industrial equipments.



The IMBA-Q87A ATX motherboard can be equipped with a choice of processors from the 4th generation Intel Core processor family and the Intel Q87 Express chipset. This industrial motherboard supports up to three independent displays via VGA, DVI, HDMI or DP. Support for up to 32GB is possible in four DDR3 DIMMs. The IMBA-Q87A has six SATA ports for operating system and ample storage, along with two Intel Gigabit LAN ports for optimal networking. Equipped with up to six COM ports, fourteen USB ports, one PCIe[x16 slot, one PCIe[x4 slot and exclusively five PCI card slots, the IMBA-Q87A offers unmatchable expansion capabilities.



The IMBM-Q87A micro-ATX motherboard can also be equipped with a choice of processors from the 4th generation Intel Core processor family and the Intel Q87 Express chipset. This industrial motherboard supports up to three independent displays via VGA, DVI or DP. Support for up to 32GB is possible in four DDR3 DIMMs. Different from IMBA-Q87A, the IMBM-Q87A has five SATA 6.0 Gb/s ports and one half-size Mini card slot (or m-SATA optional)for more operating system and storage choices, along with two Intel Gigabit LAN ports for optimal networking. Equipped with up to six COM ports, eight USB2.0 ports, four USB3.0 ports, one PCIe[x16 slot, one PCIe[x4 slot, two PCI card slots, the IMBM-Q87A also offers great expansion scalabilities.



"The new IMBA-Q87A and IMBM-Q87A industrial motherboards feature the 4th Generation Intel Core processors, offering enhanced performance and significant improvements in graphics and image processing." stated Wayne Chen, CTO of AAEON. "These powerful boards offer industry leading components in a configuration that offers scalability and high graphic performance for applications where longevity, optimum video resolution and reliability are critical, such as factory automation, industrial automation, digital surveillance system, medical equipments, digital signage, ATMs and the rapidly growing self-service Kiosk industry."



For more product and service information, please contact AAEON's regional sales representatives or visit www.aaeon.com.



About AAEON

AAEON is a leading manufacturer of advanced industrial and embedded computing platforms. Committed to innovative engineering, AAEON provides integrated solutions, hardware and services for premier OEM/ODMs and system integrators worldwide. Reliable and high quality computing platforms include industrial motherboards and systems, industrial displays, rugged tablets, PC/104 modules, PICMG half-size and full-size boards and COM modules, embedded SBCs, embedded controllers and related accessories. AAEON also offers customized end-to-end services from initial product conceptualization and product development on through to volume manufacturing and after-sales service programs. AAEON is an Associate member of the Intel Intelligent Systems Alliance.



Intel and Intel Core are registered trademarks of Intel Corporation in the United States and other countries.



Notes:

1. Intel, Intel Core and Celeron are registered trademarks of Intel Corporation in the United States and other countries.

2. Note to reporters, editors and writers: AAEON is written in ALL CAPS.



Press Contact

AAEON Technology Inc.

David Chen

TEL: +886-2-8919-1234 # 1113

Email:

[email protected]