Industrial Monitor uses projected capacitive touch technology.
Press Release Summary: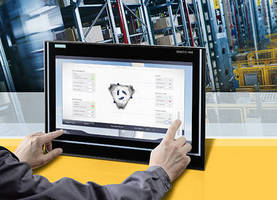 Used as HMI on or around machines, 19 in. Simatic IFP1900 MT features 100% anti-glare glass front, which is scratchproof and resistant to chemicals. Widescreen monitor provides automatic detection of spurious touching, and responds to gestures and operator actions with up to 5 fingers simultaneously. Using display port or DVI-D interface, device can be connected to PC at distances up to 30 m. IP65-rated, LED-backlit monitor offers 1366 x 768 pixel resolution and can be dimmed by up to 100%.
---
Original Press Release:

Industrial Monitor for Practical Gesture and Multi-touch Operation



• 19-inch industrial monitor with projected capacitive touch technology

• Suitable for industrial use with practical gesture and multi-touch operation

• 100% anti-glare glass front, scratchproof and resistant to chemicals

• Automatic detection of spurious touching and operator actions



For gesture and multi-touch operation, Siemens Industry Automation Division has come up with an industrial monitor with projected capacitive touch technology (PCT). Simatic IFP1900 MT is the first device of this type that the company has marketed and it expands its range of rugged HMI (Human Machine Interface) monitors with widescreen format. The device for built-in installation features a scratchproof 100% glass front with high resistance to chemicals and is offered with a 19-inch display diagonal. The highlights of the new industrial Flat Panels are the special industrial anti-glare surface and automatic detection of spurious touching and operator actions, for example, touching with the ball of the thumb or soiling. Simatic IFP1900 MT is used as an HMI on or around the machine and at distance up to 30 meters in distributed solutions with connection to industrial PCs. It can also be used for existing applications with single-touch operation.



The PCT technology in Simatic IFP1900 MT enables efficient and fast operation, even when wearing thin protective gloves. The device responds to gestures and operator actions with up to five fingers simultaneously. For example, image contents can be panned, zoomed, or hidden components shown both intuitively and quickly.



The crystal clear glass surface of the new Industrial Flat Panels provides the user with a brilliant display with high image acuity and brightness; the anti-glare glass, with good legibility from all directions with a wide range of viewing angles and reliable operation. The 100% glass front is especially scratchproof and particularly immune to the action of chemicals. A narrow metal surround protects the edges of the glass from damage.



The new robust Simatic IFP1900 MT widescreen device complies with degree of protection IP65 at the front and is designed for around-the-clock continuous operation, even where temperature, vibration, shock, and EMC requirements are stringent. The energy-saving LED background lighting can be continuously dimmed by up to 100 percent and is especially long-lasting and very luminous when used in brightly lit working environments. The 19-inch HD ready widescreen display has a resolution of 1366 x 768 pixels. The device can be connected remotely through a display port or DVI-D interface at up to 30 meters from an industrial PC and is also suitable for mounting with portrait orientation. A 24 volt DC and 100-230 volt AC power supply and two USB interfaces are integrated. A customized front design is available if requested.



The gesture and multi-touch operation is supported by the Simatic WinCC V7.2 process visualization software. Alternately, Simatic IFP1900 MT can also be used for individually developed solutions based on Microsoft Windows 7 and 8.



The Siemens Industry Sector (Erlangen, Germany) is the world's leading supplier of innovative and environmentally friendly products and solutions for industrial customers. With end-to-end automation technology and industrial software, solid vertical-market expertise, and technology-based services, the Sector enhances its customers' productivity, efficiency, and flexibility. With a global workforce of more than 100,000 employees, the Industry Sector comprises the Divisions Industry Automation, Drive Technologies and Customer Services as well as the Business Unit Metals Technologies. For more information, visit http://www.siemens.com/industry



The Siemens Industry Automation Division (Nuremberg, Germany) supports the entire value chain of its industrial customers – from product design to production and services – with an unmatched combination of automation technology, industrial control technology, and industrial software. With its software solutions, the Division can shorten the time-to-market of new products by up to 50 percent. Industry Automation comprises five Business Units: Industrial Automation Systems, Control Components and Systems Engineering, Sensors and Communications, Siemens PLM Software, and Water Technologies. For more information, visit www.siemens.com/industryautomation

More from Electrical Equipment & Systems