Industrial LCD Displays are built for optimum brightness.
Press Release Summary: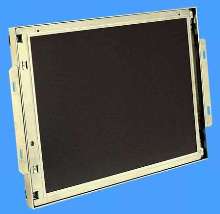 Available in 6.4-19 in. sizes, industrial LCDs combine Mitra panels, Morpheus monitors, and optically-enhanced LCD displays. Latter eliminates internal reflections and refractions. Solution enabled development of optically solid unit, which does not suffer from condensation on display, parallax, stress on LCD, or delamination. Applications include banking, process, kiosk, and marine.
---
Original Press Release:

GDS Introduces Its Superior New Range of Industrial LCD Displays


Global Display Solutions Ltd. (GDS), a world leader in the design and manufacture of industrial displays introduces its new range of industrial LCD displays for use in numerous industries worldwide including transport, banking, process, kiosk and marine. This improved range includes technologically superior industrial LCDs and high brightness Mitra panels and Morpheus monitors, as well as a new and innovative display - the 'first of its kind' optically-enhanced LCD display for optimum brightness and contrast.

GDS's new industrial range of LCDs, which are available in sizes 6.4" to 19", have been future-proofed to avoid obsolescence and to ensure upgrade compatibility and product continuity. The display panels have also been improved in terms of brightness and contrast.

According to Ian Hudson, Sales and Marketing Director of GDS, "As a world leader in industrial displays, we have to be prepared to respond promptly to the market's needs, which is why we have been quick to future-proof our industrial displays and enhance their panel quality. This upgrade will be seamless to our customers, without disruption to product availability or customer service."

The improved industrial LCD range includes 18 new and upgraded products, providing customers with a full spectrum of display solutions depending upon their requirements - from standard LCD panels through to optically enhanced 'plug and play' monitors.

The new addition to the range - the optically enhanced LCD display - is far easier to read than other TFT-LCD displays on the market because internal reflections and refractions have been totally eliminated. This new GDS display, which is on average three-times' brighter than the brightest TFT- LCD display on the market uses a GDS-patented solution. This solution has enabled the development of an optically solid unit, which does not suffer from condensation on the display, parallax, stress on the LCD or delamination.

GDS's new industrial range of LCDs will be available to customers from October 2004.

GDS is a world-leading manufacturer of industrial display solutions for a number of industries worldwide. GDS's display solutions are ideal for a range of applications including ATMs, marine navigation systems, Public Information Display Systems (PIDS), kiosks and displays for the process industry. For further information on GDS's improved range of industrial LCDs, please call +44 (0) 1274 230150, visit www.gds.com or email sales@gds.com

More from Chemicals & Gases