Industrial Engines increase truck productivity and fuel economy.
Press Release Summary: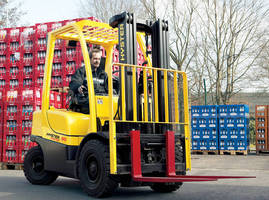 Available for 3,000–7,000 lb Class IV and V Hyster® cushion tire and pneumatic tire trucks, engines featuring Hyster® Variable Power Technology™ include PSI 2.0 L LP engine and PSI 2.4 L LP or dual fuel engine. Latter offers option to run on LP or gas, while Hyster Variable Power Technology provides adjustable performance modes to maximize productivity or fuel economy to fit application. E-controls fuel system optimizes fuel efficiency and emissions control.
---
Original Press Release:

Increase Productivity and Fuel Economy with New Industrial Engines Featuring Hyster® Variable Power Technology(TM)



GREENVILLE, N.C. – Hyster Company has launched a new line of industrial engines designed to increase productivity and fuel economy for its 3,000 - 7,000 lb. Class IV and V product lines. The new engines from Power Solutions International (PSI) feature Hyster® Variable Power Technology™ and offer a more powerful and efficient solution for demanding applications.



The Hyster® S30-40FTS cushion tire trucks and H30-40FTS pneumatic tire trucks include the new PSI 2.0L LP engine. Higher capacity models including the Hyster® S40-70FT and S50CT cushion tire trucks and H40-70FT and H50CT pneumatic tire trucks contain the new PSI 2.4L LP or dual fuel engine. The optional dual fuel engine provides flexibility to run on LP or gas, an ideal feature for rental applications.



An advanced feature that comes standard with the new PSI industrial engines includes Hyster Variable Power Technology. This technology provides adjustable performance modes that allow customers to maximize productivity or fuel economy to fit their specific application requirements. Hyster Variable Power Technology offers the ability to achieve a balance of enhanced performance and superior fuel economy or to maximize productivity during peak business periods when moving more loads is integral to the success of the operation.



To realize greater fuel efficiency and improve emissions, the PSI engines also utilize the latest E-controls fuel system with an electronically controlled regulator. Hyster® trucks powered by the new PSI engines see increased maximum travel and hoist speeds, with or without a load, and increased horsepower – up to 10 percent over the previous engine.



"Our engine development and testing program is industry leading," said Bill Pfleger, Vice President, Counterbalanced Solutions, Hyster Company. "We focus on developing engines that are designed to maximize the productivity and performance of the lift truck series they will power. The new PSI engines have exceeded expectations and will deliver great value to our customers."



During development, the new industrial engines endured over 30,000 hours of rigorous testing, confirming engine component durability and performance dependability. This toughness is reflected in the extended service intervals and elimination of previous maintenance requirements – helping customers incur less downtime and increase operational productivity.



About Hyster Company

Based in Greenville, N.C., Hyster Company (www.hyster.com) is a leading world-wide lift truck designer and manufacturer. Hyster Company offers 130 models configured for gasoline, LPG, diesel and electric power, with the widest capacity range in the industry — from 2,000 to 105,000 lbs. Supported by one of the industry's largest and most experienced dealer networks, Hyster Company builds tough, durable lift trucks that deliver high productivity, low total cost of ownership, easy serviceability and advanced ergonomic features; accompanied by outstanding parts, service and training support.



Hyster Company is part of NACCO Materials Handling Group (NMHG), a wholly owned subsidiary of Hyster-Yale Materials Handling, Inc. (NYSE:HY). Hyster-Yale Materials Handling, Inc., headquartered in Cleveland, Ohio, and its subsidiaries employ approximately 5,200 people world-wide.



Hyster and   are registered trademarks of Hyster Company.



Company Contact:

Nicole McLawhorn

NACCO Materials Handling Group

252-931-5535

nicole.mclawhorn@nmhg.com



Media Contact:

Andrea Simrell

Jackson Marketing Group

864-272-3057

andrea.simrell@jacksonmg.com

More from Packaging Products & Equipment