Industrial Dryer processes up to 100 tons per hour.
Press Release Summary: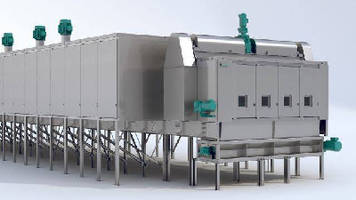 With high-strength construction and optimized frame design, AeroDry Industrial Dryer eliminates loss of heated air. Unit is fully automated with precision control system that ensures uniform conveyor loading and maximizes overall consistency of product's final moisture content or thermal treatment. Allowing 100% access to interior and all moving parts, dryer provides high sanitation capability. Applications include extrusions, granules, flakes, briquettes, flakes, and raw feedstock products.
---
Original Press Release:

Buhler Aeroglide Launches the Next Generation Industrial Dryer Robust for Long Life Performance, Offering the Smallest Energy Footprint Yet



Cary, NC – Bühler Aeroglide, a global leader in thermal process engineering and technology for food, feed, and industrial materials, has introduced the next generation AeroDry industrial dryer. A product launch took place at ACHEMA, June 15-19, in Frankfurt, Germany.



Bühler's industrial solutions continue to meet the most demanding market requirements, guided by customers, practical experience and advanced modeling. The new AeroDry industrial dryer is designed for extrusions, granules, flakes, briquettes, flakes, and raw feedstock products. It's engineered to serve a wide array of processing applications including polymers, fine chemicals, minerals, catalysts, biomass, construction materials, organic and inorganic products, and agricultural and petrochemical derivatives.



"We are pleased to introduce the next generation of thermal processing for industrial applications, which gives manufacturers an advanced drying solution for both reliable and consistent results," said Paul Branson, Director of Industrial Drying Technologies at Bühler Aeroglide. "As a broad-based industry solution for synthetic rubber, super absorbent polymers and materials, our engineers have perfected thermal processing and our proven technology to match customer requirements with the lowest energy footprint to date."



Hallmarks of the next generation AeroDry  include robust, high-strength construction with an enhanced frame and enclosure integrity. These design features eliminate the loss of heated air, which reduces energy use as well as room contamination in the form of dust and vapors. Engineered for the most challenging drying conditions, the new AeroDry is suitable for production rates up 100 tons per hour while accommodating temperature extremes and managing thermal expansion requirements.



It's also fully automated for operation without manual intervention, and this results in better management of product profiles and corresponding reduction in thermal energy through modulation of energy loads, as well as electrical power reduction requirements. A precision control system ensures uniform conveyor loading and maximizes the overall consistency of the products final moisture content or thermal treatment. 



For reliability and maintainability, the new industrial dryer allows 100% access to the full dryer interior and all moving parts. This translates into a higher sanitation capability and means the processor can expect a quicker changeover, without cross contamination, as well as an overall reduction in cleaning time. Processors will also find routine maintenance easier now that regularly serviced areas are externally designed to minimize downtime.



For critical applications with aggressive handling requirements, specially designed rotating pickers or breaker guides can be added to loosen the product on the conveyor, ensuring an even flow of product to the breaker system. Constructed of stainless steel, the picker system can be mounted in varying locations to optimize effectiveness.



Finally, the new AeroDry is accompanied by the same responsive service and global local support for which Bühler is known. "The company offers a full breadth of service to customers no matter where they are in the world, and this includes technical support, spare parts, and emergency services," says Branson. "We also provide process evaluations, energy audits and training, all matched to the needs of the specific product, the specific customer, and the specific plant site."



About Bühler Aeroglide

Bühler Aeroglide manufactures dryers, ovens, roasters, toasters, and hot air expansion systems for the industrial,  food, and advanced materials  product markets. Since 1940, the company has been providing innovations for a better world in the form of high-quality thermal processing equipment. As a business unit of Bühler, Aeroglide is headquartered in Cary, NC, and provides sales and service for its industry leading equipment in more than 140 countries around the world. For more information about Bühler Aeroglide, call +1 919 851 2000, or visit http://www.buhlergroup.com/drying.



For more information, please contact:

Nick Manley, Marketing Communications

Bühler Aeroglide, 100 Aeroglide Dr., Cary, NC USA

Phone +1 919 278 2864, Fax +1 919 851 6029, E-mail nick.manley@buhlergroup.com



More from Computer Hardware & Peripherals