Industrial Dispense Pump suits low-volume applications.
Press Release Summary: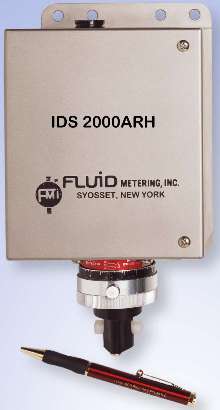 CE approved IDS-2000ARH integrates proprietary CeramPump® valveless piston pumping principal with precision stepper control. CeramPump® valveless design has one moving part: single rotating and reciprocating piston made of dimensionally stable, chemical-resistant ceramics. Product dispenses 0-100 µl per stroke up to 50 ml/min continuous metering at pressures to 100 psig. Integrated pump and electronics are housed in stainless steel enclosure.
---
Original Press Release:

Model IDS 2000ARH Low Volume Industrial Dispenser


Fluid Metering, Inc., Syosset, NY introduces the new IDS-2000ARH Industrial Dispense Pump for industrial production and process applications requiring maintenance free, precision, low volume fluid control.

The IDS-2000ARH is CE approved and integrates FMI's patented CeramPump® valveless piston pumping principal with precision stepper control. FMI's patented CeramPump® valveless design has only one moving part, a single rotating and reciprocating piston made of dimensionally stable, chemically resistant ceramics. This unique pump design accomplishes all fluid control functions while eliminating valves which can clog, fatigue, and fail, causing accuracy drifting and pump failure over time. The electronics feature precision stepper motor control, multiple dispense and continuous modes, and will interface with a PC or PLC.

The IDS-2000ARH provides precision piston stroke adjustment using an easy-grip flow control ring graduated in 450 divisions resulting in an accuracy of 1% or better. The low dead volume pump head design ensures maximum bubble clearing and provides a typical stroke to stroke precision of 0.5% or better. It will dispense 0-100ul per stroke up to 50 ml/min. continuous metering at pressures up to 100 psig. It is ideal in applications which require both frequent and highly accurate changes in dispense volumes or flow rates.

The integrated pump and electronics are housed in a rugged stainless steel enclosure suitable for wall mounting in production and process areas. Typical applications include chemical and pharmaceutical processing, electronics and semiconductor manufacturing, metal finishing, food processing and packaging, and process instrumentation.

For additional information, Call toll free 800-223-3388 or 1-516-922-6050, FAX 1-516-624-8261, email: pumps@fmipump.com or visit our website at www.fmipump.com

Fluid Metering, Inc.
5 Aerial Way - Suite 500
Syosset, NY 11791USA