Industrial Dehumidifiers feature explosion-proof design.
Press Release Summary: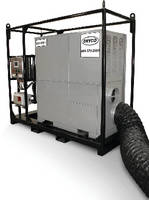 Featuring 9 ft x 3 ft 8 in. x 8 ft 1 in. footprint, XDH2000 Series utilizes silica gel-impregnated desiccant technology and is suitable for mobile applications. Units require 60 A/480 V or 45 A/600 V of power to deliver 2,000 cfm at 2.5 in. static pressure. UL/CSA listed Class I, Div 2, deep-drying dehumidifiers deliver climate-controlled environment in potentially hazardous locations.
---
Original Press Release:
New Dryco Explosion-Proof Portable XDH2000 Dehumidifiers are Designed for Industrial Applications
DOWNERS GROVE, IL -- DRYCO has announced the availability of their new, patented, explosion-proof, deep-drying XDH2000 dehumidifiers for mobile applications with silica gel-impregnated desiccant technology. "We've designed them to handle today's and tomorrow's maintenance challenges. Our XDH2000 dehumidifiers deliver the deep-drying performance to help you do the job better," said Joe Schroeder, President of DRYCO. "We've designed the small footprint, 9 ft. x 3 ft. 8 in. x 8 ft. 1 in., of the XDH2000, so you can take it with you. The XDH2000 can be used to deliver a climate-controlled environment to improve production or help keep work areas safe or for use in any potentially hazardous location." The DRYCO low-energy XDH2000 needs just 60 amps/480V or 45 amps/600V of power to deliver 2000 cfm @ 2.5" static pressure. According to Schroeder, that's half the energy draw and twice the output of what other units can deliver. The unit is UL/CSA listed Class I, Div. 2. DRYCO services include temporary or permanent dehumidification, portable heating and air-conditioning, generators and temporary power distribution, air handling equipment and thermal imaging and moisture analysis. DRYCO has offices and a fleet of vehicles throughout North America and regularly mobilizes equipment and personnel globally. DRYCO provides equipment solutions for every environmental condition. For more information on DRYCO's XDH2000 explosion-proof dehumidifier, contact DRYCO, 5400 Jane Avenue, Downers Grove, IL 60515. Toll free: 866-379-2600 or visit xdhtechnology.com NOTE: Please send leads to DRYCO, 553 N. North Ct., Ste. 110, Palatine, IL 60067 or e-mail to: leads@interlinegroup.com MEDIA CONTACT: Brandon Willis, DRYCO, 630-541-7000, Email: brandonw@drycogroup.com