Industrial Bar Code Label Printer is built for durability.
Press Release Summary: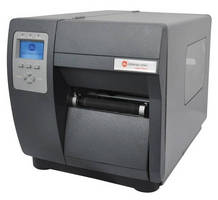 With 64 MB Flash and 32 MB DRAM, I-Class Mark II features die-cast aluminum frame, metal cabinet, gear-driven design, and abrasion-resistant IntelliSEAQ printheads. Modular design facilitates in-field upgrades, with options such as internal rewind, thermal transfer, and WLAN. OPTIMedia feature enables printer to automatically adjust to heat, speed, darkness, and contrast settings to ensure optimal print quality. Designed for intelligent integration, printer offers diverse communication ports.
---
Original Press Release:

Datamax-O'Neil Introduces the All-New I-Class Mark II that Offers Powerful Performance, Unmatched Reliability and Intelligent Integration



The I-Class Mark II offers the fastest processor, largest memory and widest selection of communication ports available in a mid-range industrial printer to meet the most diverse applications

BBOURG-LÈS-VALENCE, FRANCE - Datamax-O'Neil, a global provider of stationary, portable and mobile industrial grade label and receipt printing solutions, today announces the all-new I-Class Mark II high performance industrial printer. The new printer builds off the highly successful I-Class series and incorporates features and technology that make it best in its class for performance, reliability and ease of integration.

"The original I-Class series revolutionized the barcode printer industry with its award winning modular design, field installable options and rugged reliability, and was named 'best channel product' in some of the industry's most reputable independent surveys," said Sr. Product Manager Umesh Cooduvalli. "I am excited to have been involved in making the best even better, and offer customers a printer that outpaces its competition in terms of performance, reliability and integration."

The I-Class Mark II is designed to outperform any printer in its class with 20 percent faster print speeds, 44 percent faster processing and 61 percent lower power consumption. The printer offers 50 percent more memory with 64 MB Flash and 32 MB DRAM as standard features.

The I-Class Mark II's die-cast aluminum frame and metal cabinet assure durability and its modular design provides the ability to upgrade in the field, with options such as internal rewind, thermal transfer and W-LAN. A gear-driven design provides for rigorous duty cycles and uninterrupted productivity.

IntelliSEAQ printheads provide a long life with their durable coating and high abrasion resistance, while offering lower power consumption. The I-Class Mark II is the first printer to come equipped with OPTIMedia, a feature that enables the printer to automatically adjust to optimum heat, speed, darkness and contrast settings to ensure the highest quality printing.

The I-Class Mark II was designed for "intelligent" integration, with the industry's largest selection of communication ports of any mid-range industrial printer, including serial, parallel, USB, LAN, 2 USB Host ports and SDIO, W-LAN and GPIO applicator cards. The 802.11 a/b/g W-LAN option with WPA2 security protocol is unique in the industry. In addition, the printer's Auto-Detect language emulation feature provides for seamless replacement of existing printers, while a LCD graphical backlit display enables user friendly configuration set up and operation.

The I-Class Mark II is the ideal bar code label printer for diverse applications such as industrial manufacturing, transportation and logistics, pharmaceuticals and food and beverage.

About Datamax-O'Neil
Datamax-O'Neil is a trusted global provider of stationary, portable and mobile label and receipt printing solution products that enable manufacturing and supply markets to capture the benefits of automated product identification and automated legal and financial transactions. Datamax-O'Neil is the barcode and mobile printing business group of Dover Corporation's Product Identification Group (PIDG), a global platform entity with products and services covering all the leading marking technologies and applications. The company's products address a wide variety of applications, including those in the industrial, healthcare, retail, automotive and ticketing market sectors. Datamax-O'Neil is headquartered in Orlando, Florida, and maintains key facilities in California, Illinois, and France, as well as sales and technical support offices around the world.

Press contact:
PSM&W Kommunikation GmbH
Beatrice Gaczensky
PR Senior Consultant
Leipziger Strasse 59
D-60487 Frankfurt
Tel.: +49 (0)69 970705-42
Fax: +49 (0)69 970705-55
E-Mail: do@psmw.de
Internet: www.psmw.de

Customer contact:
Datamax-O'Neil
Charlotte Barthélemy
Marketing Manager EMEA
9, rue Gaspard Monge
F-26500 Bourg-Lès-Valence
Tel: + 33 (0)475 756 311
Fax: + 33 (0)475 829 839
E-Mail: cbarthelemy@datamax-oneil.com
Internet: www.datamax-oneil.com

More from Electronic Components & Devices