Position Sensors / Detectors / Transducers
Inductive Position Sensor offers linear, rotary position feedback.
Press Release Summary: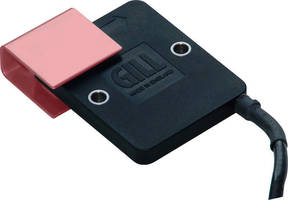 From single package, Blade25 monitors activator's (target) position in either straight linear movement (±12.5 mm displacement) or in curved arc rotary movement (±45°) as it passes over sensing element. Non-contacting position sensing technology is immune to outside magnetic influences, and available outputs are analog, PWM, or Serial (RS232 19.2k 8N). Measuring 40 x 50 x 6 mm, 2-piece sensor comes in IP67 sealed flat pack of sealed electronics with two mounting holes.
---
Original Press Release:

Gill Sensors & Controls Introduces Dual Function Position Sensor into North American Market



LOS ANGELES, Calif. — Gill Sensors & Controls Limited introduces the Blade25 Inductive Position Sensor into the North American market.  The Blade25 offers a non-contacting position sensing technology in an innovative design that provides both linear and rotary position feedback in a single package.  Gill's proprietary inductive sensing technology can monitor the activator's (target) position in either a straight linear movement or in a curved 'arc' rotary movement as it passes over the sensing element.



As Paul Cain, Manager of Business Development for Gill Sensors North America explains, "It's exciting that a single device can be used in both linear or limited angle rotary sensing applications.  And, unlike Hall effect sensors, Gill's technology is immune to outside magnetic influences, such as alternators, starter motors, audio speakers or large multiphase motors."



With the Blade's dual movement capability, engineers can now use just one part number when designing into their applications.  The Blade25's packaging is the same in both cases – a flat pack of sealed electronics with two mounting holes.



HOW GILL IS DIFFERENT

The Blade25 is a two piece sensor that measures either +/-45° of rotary movement or +/- 12.5mm of linear displacement.  In both cases there is no contact between the sensing element and the small metal 'target', which acts as the activator and attaches to the moving element in the assembly.  The activator has an air gap between the second part of the sensor, which features a solid-state sealed electronics package that is surrounded by the activator.



Gill's Blade25 proprietary inductive technology eliminates the bearing and mechanical wear issues of conventional shaft driven sensors by separating the position 'activator' from the sensor's electronics.  This separation eliminates the need for precise and expensive bearings.  And, the air gap provides an unlimited mechanical life span, as the two pieces never come in contact.  This technology is ideally suited to extremely dirty and contaminated environments, in areas where strong magnetic fields are present, and in complex mechanical assemblies that have tolerance and wear issues over their lifetime.



The standard Blade25 Sensor is available with Analog, Pulse Width Modulation (PWM) or Serial Output (RS232 19.2k 8N) and is specifically designed to meet stringent OEM environmental requirements with an IP67 rating.  Manufactured in a thin, fully sealed 40mm x 50mm x 6mm package, the sensor's robust housing uses a side cable exit with 3.4mm jacketed cable.  The device features a standard mild steel activator as the target. Alternately, OEM engineers can choose to integrate the activator feature into their designs for either linear stroke applications, or at the end of shafts for rotary applications.    Gill engineers are available for consultation for incorporating this feature into their design.



The Blade25 is ideally suited for use in:

• Off Highway tractor and implement feedback sensing

• Marine control and feedback

• Material handling and fork lift feedback and control

• Industrial vehicle foot brake and throttle control

• Packaging & laboratory automation

• Camera and lens position feedback

• Cranes & telescopic manipulators

• Food processing and machine automation applications



In addition to the standard product, Gill can custom design this technology into customers' applications, providing solutions that have a high tolerance to misalignment and extended exposures to high temperature.



Pricing for the Blade25 starts at $47.00 USD per unit in production volumes.



ABOUT GILL

Gill's product offering includes non-contacting rotary and linear position sensors, liquid level sensors, oil condition monitoring and bulk (grain presence) sensors for OEM's in the construction, agriculture, marine, motorsport and defense markets.



Gill Sensors & Controls Limited is a leading UK based manufacturer of innovative sensors used in Construction, Agriculture, Motorsport, Defense, Marine and Material handling industries. Certified to ISO 9001:2008, Gill provides both standard and custom electronic products to some of the most recognized brands in the world.



Their range of products covers; non-contact rotary and linear position sensing, liquid level sensing, oil condition and fluid flow sensing.



For more information on Gill Sensors & Controls, contact us on: E: info@gillsc.com, www.gillsc.com.



Design, Manufacturing and Customer Support:

Gill Sensors & Controls Limited

Unit 600

Ampress Park

Lymington

Hampshire, UK

SO41 8LW

Tel: +44 (0) 1590 613900

Fax: +44 (0) 1590 613401

Email: info@gillsc.com

www.gillsc.com

 

Sales, Engineering and Support offices in the U.S.:

Engine Controls:

Springfield, Missouri

Contact: Greg Kraus

Tel: (417) 720-4795

Mobile: 740-398-0484

Email: gkraus@gill-us.com



Non-Contacting Position Sensors, liquid level, oil condition monitoring sensors:

California, Orange County

Contact: Paul Cain

Tel: +1 949 287 6345 PST

Mobile: +1 949 375 5975 PST

Email: paul.cain@gillsc.com

More from Test & Measurement